Fallen Star Stories - Mary Esther Judy
Fallen Star Stories is a blog about children's books and other related matters and events. Here you will regularly see reviews of all types of children's books from picture books to young adult novels. You'll also find information on children's and family events.
Mary Esther Judy is its minder. Mary is the children's books buyer at Dubray Books Galway branch. She also regularly reviews books for Inis Magazine, Bookbag... and various other publications."
» Fallen Star Stories


Fallen Star Stories Recommends
Hardback · 07 Oct 2011 · €14.70

A stubborn little dragon with a favourite book -- and a fiery temper!
Hardback · 07 Oct 2010 · €13.35

Suitable for children aged 4 to 7 years, this title lets young children follow Lowly Worm as he: takes an unexpected ride on a hot-air balloon; helps Huckle find just the right gift for Mother Cat; and, gets lost on a subway during a visit to the city.
Paperback · 07 Jan 2010 · €8.00

Three crazy, funny stories, featuring the two clumsiest talking mice you'll ever meet... Shortlisted for the ROALD DAHL FUNNY PRIZE 2010
Paperback · 03 Mar 2008 · €8.99

When Milo finds an enormous package in his bedroom, he's delighted to have something to relieve his boredom with school. And when he opens it to find - as the label states - One Genuine Turnpike Tollbooth, he gets right into his pedal car and sets off through the Tollbooth and away on a magical journey!
Paperback · 03 Mar 2011 · €8.00

Bul-Boo and Madillo are worried about their friend Winifred, who has lost her gentle smile and no longer puts up her hand in class. Then the twins discover her secret: she is to be married off to her uncle's friend, who drinks heavily and is old enough to be her grandfather. But what can they do?
Paperback · 11 Apr 2011 · €7.99

The ghost of fifteen-year-old Samuel Scott moves restlessly aboard the Titanic as she sails to her doom in 1912. An eyewitness to the final days in the lives of rich and poor, crew and passengers, this is Samuel's story ...
Paperback · 03 Nov 2011 · €13.35

A girl tries to free herself from the terrifying double shadow of her childhood and forge her own future, but she is trapped in a memory machine created by her father.
Paperback · 05 Aug 2010 · €8.00

Two boys. One identity. He can change his life if he says yes!
We're MAD About...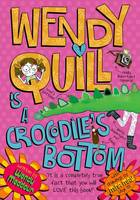 Wendy Quill is a
Crocodile's Bottom
by Wendy Meddour
& Mina May
Read Our Review...
Teen Choice