CBI Book of the Year
Belfast author Sheena Wilkinson has won the CBI Book of the Year award with her novel Grounded. Set in contemporary Belfast, the novel follows a talented show-jumper from the wrong side of the tracks struggling to cope with a series of unexpected responsibilities. The book also won the Children's Choice Award which is selected by eight Junior Juries from schools around the country.
Paperback · 30 Mar 2012 · €11.35

Declan loves Seaneen, but he longs to work at a top showjumping yard. When Declan is offered his dream job in Germany, he should be thrilled. But he's terrified: leaving Seaneen's harder than he expected; troubled Cian won't leave him alone, and when he finds a traumatised horse in a barn, he knows he must help her, no matter how scared he is.
We're MAD About...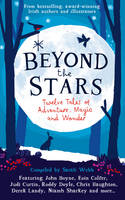 Beyond the Stars
by Sarah Webb
Read Our Review...
Teen Choice