CBI Book of the Year
Founded in 1990, the CBI Book of the Year Awards are the leading children's book awards in Ireland. They are a celebration of the outstanding talent and creativity of Irish authors and illustrators (those resident in Ireland are also eligible). The shortlist for this year's awards is as follows:
Paperback · 28 Mar 2013 · €8.99
Our Price: €7.99

There's nothing unusual about the Brockets. Normal, respectable and proud of it, they turn up their noses at anyone different. But from the moment Barnaby Brocket comes into the world, it's clear he's anything but ordinary. To his parents' horror, Barnaby defies the laws of gravity - and floats.
Paperback · 03 Jan 2013 · €8.99

First love, friendship and quiet courage combine in this spare and beautiful story that will leave you sad, happy and wanting more from this fantastic new voice in children's fiction
Hardback · 04 Oct 2012 · €20.00

Eight ancient legends of Ireland, told for younger children by an acclaimed Irish writer and reviewer.
Hardback · 01 Sep 2012 · €9.95
Paperback · 03 Jan 2013 · €8.99

Her past is a secret, but Taney Tyrell is haunted by the future. Brilliant new novel about a girl with the gift of the second sight, by Irish author, Marie-Louise Fitzpatrick.
Paperback · 11 Feb 2013 · €8.99
Our Price: €7.99

It's hard work being good all the time. And it's especially hard for a dog like George!
Hardback · 30 Aug 2012 · €16.00

WINNER of the Irish Book Awards Children's Book of the Year 2012. An exquisite new book, featuring a boy and his moose, from internationally bestselling, multi-prize-winning picture book creator, Oliver Jeffers.
Paperback · 01 Apr 2012 · €9.99

Declan loves Seaneen, but he longs to work at a top showjumping yard. When Declan is offered his dream job in Germany, he should be thrilled. But he's terrified: leaving Seaneen's harder than he expected; troubled Cian won't leave him alone, and when he finds a traumatised horse in a barn, he knows he must help her, no matter how scared he is.
Paperback · 01 Jan 2012 · €6.50
We're MAD About...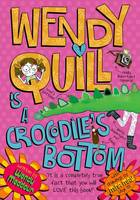 Wendy Quill is a
Crocodile's Bottom
by Wendy Meddour
& Mina May
Read Our Review...
Teen Choice