CILIP Carnegie and Greenaway Medals
Roddy Doyle has been included on the eight-strong shortlist for the CILIP Carnegie Medal, one of the UK's most highly-regarded accolades for children's writing. Established in 1936, previous winners include literary greats Terry Pratchett, CS Lewis, Philip Pullman and Arthur Ransome. The shortlist includes:
Paperback · 03 Jan 2013 · €8.99

First love, friendship and quiet courage combine in this spare and beautiful story that will leave you sad, happy and wanting more from this fantastic new voice in children's fiction
Paperback · 07 Jun 2012 · €8.99

12 year old Mary's beloved grandmother is near the end of her life. Letting go is hard - until Granny's long-dead mammy appears at Mary's door, returning to help her dying daughter say goodbye. But first she needs to take them all on a visit to the past. A sharp and tender tale of family history and the bonds between mothers and daughters.
Paperback · 31 Jan 2013 · €9.99

The Motherland is a world in which individuality and difference are crushed but Standish Treadwell won't be subdued. This title tells the story and the unforgettable heroism of Standish.
Paperback · 03 Jan 2013 · €9.99

An audacious and astounding novel that grips the heart and the imagination
Paperback · 03 Jan 2013 · €8.99

Auggie wants to be an ordinary ten-year-old. He does ordinary things - eating ice cream, playing on his Xbox. He feels ordinary - inside. But ordinary kids don't make other ordinary kids run away screaming in playgrounds. Ordinary kids aren't stared at wherever they go.
Paperback · 03 May 2012 · €8.99

Comprising of seven short stories each of them influenced by a moon - flower moon, harvest moon, hunter's moon, blood moon - and travelling from 2073 back in time to the dark of the moon and the days of Viking saga, this title tells the story of Eric and Merle who have loved and lost one another and have been searching for each other ever since.
Paperback · 14 Mar 2013 · €8.00
Our Price: €6.99

A boy and a bear go to sea, equipped with a suitcase, a comic book and a ukulele. They are only travelling a short distance and it really shouldn't take long. But their journey doesn't quite go to plan... Faced with turbulent storms, a terrifying sea monster and rank remains of a very dangerous sandwich, the odds are against our unlikely heroes.
Paperback · 06 Feb 2012 · €9.99

Two young women become unlikely best friends during WWII, until one is captured by the Gestapo. Only in wartime could a stalwart lass from Manchester rub shoulders with a Scottish aristocrat, one a pilot, the other a special operations executive. Yet whenever their paths cross, they complement each other perfectly.
Greenaway Medal
Nominees for the sister prize, The Kate Greenaway Medal, which recognises outstanding illustration, were also announced. Both Helen Oxenbury and Emily Gravett have a chance of taking the title for a third time.
Paperback · 31 Jan 2013 · €8.99

At lunchtime, Mum said, "Eat up." I said, "No thanks, I'm a bit too busy."
Paperback · 13 Sep 2012 · €8.99

A stubborn little dragon with a favourite book -- and a fiery temper!
Paperback · 11 Feb 2013 · €8.99
Our Price: €7.99

It's hard work being good all the time. And it's especially hard for a dog like George!
Paperback · 03 Sep 2012 · €8.99

The bear's hat is gone, and he wants it back. Patiently and politely, he asks the animals he comes across, one by one, whether they have seen it. Each animal says no, some more elaborately than others. But just as it he begins to lose hope, a deer comes by and asks a rather obvious question that sparks the bear's memory and renews his search.
Paperback · 04 Apr 2013 · €9.99

A great introduction to traditional pirate myths and classic tales.
Paperback · 05 Jul 2012 · €8.99

Jack, Zak and Caspar were making a den, a mighty great fort for King Jack and his men... Night is falling, bedtime is looming and playtime is nearly over ...but brave King Jack is more than a match for dragons and terrible beasties.
Paperback · 01 Aug 2012 · €8.99

When a big black dog appears outside the Hope family's home each member hides away scared. Feeding on their the black dog gets bigger and bigger. Only Small, the yongest Hope, has the courage to face the Black Dog and shows no fear.
Paperback · 13 Mar 2013 · €8.99

What do you know about ducks? This book helps you learn all about which is a boy duck and which is a girl, why some quack louder and others more softly. It also helps you find out what they eat when it is cold outside and where they perch their bottoms to sleep.
We're MAD About...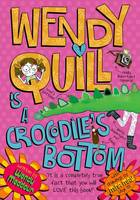 Wendy Quill is a
Crocodile's Bottom
by Wendy Meddour
& Mina May
Read Our Review...
Teen Choice