Infernal Devices
Cassandra Clare is the rising star of young adult fiction and her latest book – Clockwork Princess – hit the number one bestselling slot as soon as it was published last week. This is the third and final instalment of The Infernal Devices trilogy, a series set in a shadowy Victorian London where creatures stalk the streets, kept at bay by the mysterious Shadowhunters, and clockwork monsters wait in the dark. Filled with twists and turns and romance, the heroine Tessa seeks the truth about her heritage in this breathtaking conclusion to the trilogy. We have the first two in the series at a very special price of €7.99 – a great reason to discover her for yourself before the rest of the world do! A movie based on her Mortal Instruments series will be released in August.
Paperback · 19 Mar 2013 · €14.70
Our Price: €11.99

If the only way to save the world was to destroy what you loved most, would you do it? The clock is ticking. Everyone must choose. Passion. Power. Secrets. Enchantment. In this third and final instalment of the bestselling "Infernal Devices" trilogy, danger closes in around the Shadowhunters.
Paperback · 03 May 2012 · €9.99
Our Price: €7.99

In the magical underworld of Victorian London, Tessa Gray finds her heart drawn more and more to Jem, while her desire for Will, despite his dark moods, continues to unsettle her. But something is changing in Will. Could finding the Magister free Will from his secrets and give Tessa the answers about who she is and what she was born to do?
Paperback · 04 Sep 2010 · €9.99
Our Price: €7.99

This is a new urban fantasy full of vampires, werewolves and shape-shifters from the bestselling author of "The Mortal Instruments" series. It's London, 1878: sixteen-year-old Tessa Gray's priority should be finding her brother, not falling in love, especially with two boys.
We're MAD About...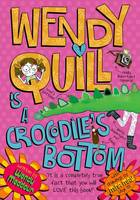 Wendy Quill is a
Crocodile's Bottom
by Wendy Meddour
& Mina May
Read Our Review...
Teen Choice