Wimpy Kid 9 Sneak Preview
Jeff Kinney's Diary of a Wimpy Kid series has been a smash success, with hundreds of thousands of readers drawn to his characteristic blend of cartoons and text, detailing the trials and tribulations of wimpy kid and hero, Greg Heffley. The first three books have made it onto the big screen, but serious fans will be waiting anxiously for book number nine in the series, Diary of a Wimpy Kid: The Long Haul. Can't wait for it to hit the streets in November? Desperate for a sneak preview? Look no further.
We're MAD About...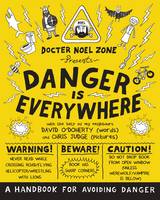 Danger is Everywhere
by David O'Doherty
Read Our Review...
Teen Choice