3 For 2
See all 3 for 2 items »
Staff Recommended Reads - Best of 2013
View all Recommended Reads »
Signed Copies
The Goldfinch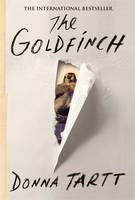 Irish Book Awards Winners
The winners at the Irish Book Awards included Roddy Doyle, Darina Allen, Fintan O'Toole and sports journalist David Walsh. The late Seamus Heaney was also honoured in a special tribute at the gala dinner.
Mary Burnham's Monthly Column
To say that Mary Burnham loves books is something of an understatement: she is a reading phenomenon and an enthusiastic advocate for the books she enjoys. You can catch up with what Mary's been reading in her monthly column, right here.
3 For 2 Promotion*
*Lowest priced book free
Recommended
Promotions
Children's