The Great Powers, Imperialism and the German Problem, 1865-1925
by John Lowe
RRP €35.85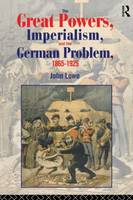 The Great Powers, Imperialism and the German Problem, 1865-1925

by
Author Name
John Lowe
Book details for title

List Price: €

35.85

Format: Paperback, 216 x 138 x 15mm, 272pp
Publication date: 04 Aug 1994
Publisher: Routledge
ISBN-13: 9780415104449
Description
This is a lucid and well-structured text dealing with key issues in international affairs from the period of German unification to the aftermath of World War I. It: * Provides excellent explanation and analysis of the central issues * Clarifies a notoriously complex period of international history * Updates traditional books in this field of 19th and 20th century diplomatic/international history * Takes a thematic approach * Leads students through the main events and reviews recent trends in historical debate and scholarship * Includes an annotated bibliography Consideration of 'the German problem' and 'the Balkan problem' have taken on a new urgency and relevance with recent developments in Europe, and this book provides an excellent introduction to the subject.
Reviews
"Altogether, this work will be of considerable benefit to those who want a fresh look at Europe's foibles during the age of imperialism."-"The International History Review
Contents
The European powers in the late 19th century; international relations - Biarritz to the "Berlin Post", 1865-75; the dilemma of Bismarckian foreign policy, 1875-87; imperial rivalries in Africa, 1875-98; the Far Eastern crisis of 1895-1905 and the Ententes of 1904 and 1907; Weltpolitik, the Navy, and Anglo-German relations, 1897-1913; crises and tension, 1905-1913; the great powers and the July crisis, 1914; epilogue - the German problem, 1919-25.
Additional Information
Illustrations: 7 maps, 10 line drawings