Girls in Love
by Jacqueline Wilson Nick Sharratt
RRP €9.99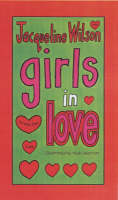 Book details for title

List Price: €

9.99

Format: Paperback, 196 x 130 x 34mm, 560pp
Publication date: 03 Apr 2003
Publisher: Corgi Childrens
ISBN-13: 9780552547901
Description
Have you ever been in love? Do you like the way you look? How late can you stay out? Ellie thinks she's unattractive and boring, and that no boy will ever be interested in her. Not like her best friend Magda, who is drop-dead-gorgeous, and Nadine, her equally best friend, who is seriously cool and looks just like a model. Join the girls as they work out how to deal with all the surprises teenage life brings. Sometimes sad, sometimes scary and often funny, don't miss this unputdownable and hugely popular trilogy for teenage readers by the award-winning Jacqueline Wilson.
Reviews
"This sequence ... is far more believable and emotionally valid than other fiction of its ilk" Scotsman "A fantastic trilogy" Children's Bookseller "A brilliant young writer of wit and subtlety whose stories are never patronising and often complex and many-layered" Times "Wilson has street cred and a sure touch for writing on contemporary subjects without patronising" Independent
Contents
REASONDS TO READ MY BOOK, NUMBERS 1 TO 9 1. It's about three girls in Year Nine 2. You can learn all sorts of secrets about me (I'm Ellie) 3. Ditto my best friend Nadine 4. Ditto my equally best friend Magda 5. You can see if your nine all-time heros/heroines match up with mine 6. You can squirm at my most embarrassing moments 7. You can have lots of laughs (mostly at me!) 8. You might even cry a bit, too 9. PLUS, you get to find out a lot more about BOYS! The first tiltle in a new trilogy for older readers by award-winning author Jacqueline Wilson.
Additional Information
Illustrations: illustrations