The Jacqueline Wilson Collection
"Story of Tracy Beaker", "Bed and Breakfast Star"
by Jacqueline Wilson Nick Sharratt
RRP €9.99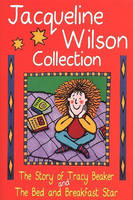 The Jacqueline Wilson Collection
"Story of Tracy Beaker", "Bed and Breakfast Star"

by

Author Name

Jacqueline Wilson, Nick Sharratt
Book details for title

List Price: €

9.99

Format: Paperback, 194 x 130 x 22mm, 368pp
Publication date: 04 Sep 1997
Publisher: Yearling (imprint of Random House Children's Books)
ISBN-13: 9780440863779
Description
THE STORY OF TRACY BEAKER. I'm Tracy Beaker. This is a book all about me. I'd read it if I were you. It's the most incredible dynamic heart-rending story. Honest. SHORTLISTED FOR THE SMARTIES PRIZE AND THE CARNEGIE MEDAL. THE BED AND BREAKFAST STAR. I'm Elsa, and I'm hoping to be a big star one day. I tell jokes all the time to try and cheer my family up. Trouble is, no-one seems to laugh much any more. Not since we lost our lovely house and had to move into a bed and breakfast hotel ...WINNER OF THE YOUNG TELEGRAPH FULLY BOOKED AWARD.
Reviews
"The chatty style draws young readers straight into the story, and the constant stream of corny jokes masks, but does not conceal, the deeper issues" Daily Telegraph on THE BED AND BREAKFAST STAR "An unsentimental and truthful book that is even better for a strong sense of mischief" Independent on Sunday on THE BED AND BREAKFAST STAR "An appealing mix of events and reactions that are both entertaining and moving. A book that lingers in the mind long after it is put down" Guardian on THE BED AND BREAKFAST STAR "Tracy is a marvellously feisty creation: she is arrogant and rude, but the occasional glimpses we get of the vulnerable girl behind the tough exterior are enough to endear her to the reader ... The excellent spiky illustrations by Nick Sharratt on nearly every page are a perfect complement to the text" The Bookseller on THE STORY OF TRACY BEAKER "Told in the zany, entirely convincing voice of Tracy Beaker herself ... The strains of communal life with other children, rivalries and friendships and jokes, all spring to life, and Tracy's prose is decorated throughout with cheeky line drawings" The Sunday Times on THE STORY OF TRACY BEAKER
Additional Information