This Isn't the Sort of Thing That Happens to Someone Like You
by Jon McGregor
RRP €9.99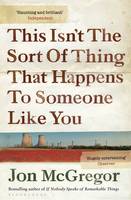 This Isn't the Sort of Thing That Happens to Someone Like You

by
Author Name
Jon McGregor
Book details for title

List Price: €

9.99

Format: Paperback, 198 x 129mm, 272pp
Publication date: 14 Feb 2013
Publisher: Bloomsbury Publishing PLC
ISBN-13: 9781408830383
Dubray Review
A deserved winner of the IMPAC award with his beautiful yet gritty novel Even the Dogs, this collection of Jon McGregor's short stories shows the same combination of poetry and darkness. The short story format allows McGregor to play with a range of styles and themes and he is certainly not afraid of experimentation. If this sounds dry and worthy, then rest assured there is plenty of humour here too, albeit of the dark variety. Set mostly in the flat, sky-filled Fens of Lincolnshire, the stories take us from the present into the future and back again, veering from fantasy to the everyday and from the moving to the chilling. With poignant examinations of human relations, farcical deaths and apocalyptic floods, there really is something for everyone here. Beautiful and affecting, these stories will stay with you for a long time.

- Penny Insole, Galway
Description
A man builds a tree house by a river, in anticipation of the coming flood. A sugar-beet crashes through a young woman's windscreen. A boy sets fire to a barn. These aren't the sort of things you imagine happening to someone like you. But sometimes they do. Set in the flat and threatened fenland landscape, where the sky is dominant and the sea lurks just beyond the horizon, these delicate, dangerous, and sometimes deeply funny stories tell of things buried and unearthed, of familiar places made strange, and of lives where much is hidden, much is at risk, and tender moments are hard-won.
Reviews
McGregor is the nearest thing you will ever come across to a literary Beethoven. Words go beyond being tools of his trade and become an orchestrated, inspired and precisely designed tone poem for each creative idea ... One of the most perfect pieces of written English I have ever come across Sunday Express Set in and around the fens, these wickedly brilliant stories are as black as the local soil ... Throughout, omissions and ellipses set the mind racing like a treacherous tide, rushing in to fill the gaps. Not a book for bedtime, then. But very, very good indeed Daily Mail To the anxious literary festival audience member - and anyone else feeling downcast about the state of the short story today - I say, read Jon McGregor's new book. Its verve, its inventiveness, its sheer quiet audacity will reassure you that the short story is alive, well and reaching new heights -- Maggie O'Farrell Guardian Sharp, dark and hugely entertaining, this collection establishes McGregor as one of the most exciting voices in short fiction -- Alex Preston Observer Haunting and brilliant Independent Jon McGregor writes with frightening intelligence and impeccable technique. Every page is a revelation Teju Cole A writer alive to the lithe life of language ... A huge talent Sunday Times A striking collection ... the prose is picked clean, pellucid Sunday Telegraph McGregor's prose is as sparse as the countryside it has alighted on, with barely a simile or metaphor in sight Literary Review There is a lot to chew over and a lot that stays in the mind Psychologies