The "Crimson Hotel" and "Audience"
by Michael Frayn
RRP €13.35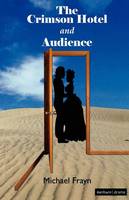 The "Crimson Hotel" and "Audience"

by
Author Name
Michael Frayn
Book details for title

List Price: €

13.35

Format: Paperback, 198 x 129 x 5mm, 100pp
Publication date: 25 Jul 2007
Publisher: Methuen Drama
ISBN-13: 9781408101100
Description
In this absurdist comedy two lovers - a playwright and his lead actress - escape to a discreet and charming Parisian hotel, conjured from a desert landscape. As the walls, door and crimson curtains of Room 322 materialise around them, a fumbling of fastenings ensues. But they soon discover they're not the only couple intent on escaping from reality...The Crimson Hotel has its world premiere at the Donmar Warehouse Theatre, London, on 25 July 2007. The volume also features the one-act play, Audience, a delightful send-up which holds up a mirror to the outlandish behaviour and comedy inherent in every theatre audience.
Additional Information
Illustrations: 1, black & white illustrations