"Afterlife"
by Michael Frayn
RRP €13.80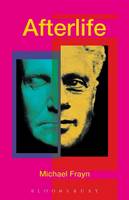 "Afterlife"

by
Author Name
Michael Frayn
Book details for title

List Price: €

13.80

Format: Paperback, 198 x 129 x 8mm, 128pp
Publication date: 02 Jun 2008
Publisher: Methuen Drama
ISBN-13: 9781408108338
Description
Afterlife is Michael Frayn's first new play for the National Theatre since Democracy, which premiered at the National in 2003 before West End and Broadway transfers. Afterlife opens in the NT Lyttelton in June. Investigating the life of the Austrian impresario and founder of the Salzburg Festival, Max Reinhardt, Afterlife is a grand epic and a highly theatrical work that will be directed by Frayn's long-term collaborator Michael Blakemore. With his morality play 'Everyman', Reinhardt captivated first the Prince Archbishop of Salzburg, and then the city itself, with the play opening the Salzburg festival each year from 1920 until the accession of the Nazis in 1938. As Reinhardt and his company are forced into exile, 'Everyman' is taken to America until life imitates art and Death comes for first Reinhardt's master of ceremonies and chief associate, Kommer, and then for Reinhardt himself.
Reviews
"The insoluble mysteries of art and existence are evoked in Michael Frayn's new play...A playful exploration of the ways in which language, faith and art express and shape our world...Frayn's erudition sparkles." Sam Marlowe, The Times, 11.06.08 "The play emerges as a homage by Frayn to theatre itself, both in its inspirational potential and in its practical detail." Sarah Hemming, Financial Times, 14.06.08 "Afterlife is part of Frayn's dramatic charting of modern Europe...[It] begins in confident opulence and ends with the Anschluss, exile and despair." Susannah Clapp, Observer, 15.06.08 "A grand, beautiful, finely acted and richly imagined show." Lloyd Evans, Spectator, 21.06.08