Brain Edema X
Proceedings of the Tenth International Symposium San Diego, California, October 20-23, 1996
by H. E. James L. F. Marshall H. J. Reulen A. Baethmann A. Marmarou Umeo Ito J. T. Hoff T. Kuroiwa Z. Czernicki
RRP €84.75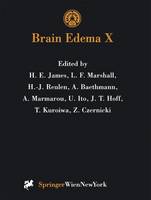 Book details for title

List Price: €

84.75

Format: Paperback, 279 x 210 x 17mm, 314pp
Publication date: 23 Sep 2011
Publisher: Springer Verlag GmbH
ISBN-13: 9783709174180
Description
This volume is a compilation of the 92 papers that were presented at the Tenth International Symposium on Brain Edema. As in previous volumes, brain edema and disturbances of metabolism arising from acute insults of any etiology, are the central issues of research. The supportive role of biochemically activated mediators, changes in blood-brain barrier, spread of the edema process, always elicit great scientific as well as clinical interest. Therapeutic interventions can only be effectively directed to these problems once the understanding of the underlying biochemical disturbances, disturbances in cerebral perfusion and parallel events, are mastered. This volume presents a comprehensive survey of the present state of the art and gives the directions for further research.
Reviews
"... a comprehensive survey of present investigations in the area of brain edema. The graphs and illustrations are clearly reproduced. It complements other previous proceedings on brain edema and should be recommended for both the clinician and the neurosurgeon who want to obtain updated information on the subject." Acta Neurologica Belgica "... This book succeeds in providing a comprehensive and up to date reference of the disease processes which are associated with brain edema ... a comprehensive guide of what research is being carried on topics related to brain edema ..." British Journal of Anaesthesia "... an excellent collection of papers that would be useful in any research library ..." British Journal of Neurosurgery "... the information the book contains is certainly an up-to-date collection of data on different aspects including ischemia, trauma, cellular swelling, and brain edema associated with neoplasms. Sections on therapy, molecular mechanisms and blood-brain barrier issues also present state-of-the-art information. This excellent selection of papers certainly has more to offer than the Proceedings format generally adopted, with only Abstracts available. The short monographs present the authors' summaries of the most essential information in a very easy-to-read format. This book should be very useful for researchers and clinicians who are interested in different aspects of brain edema". Child's Nervous System "... beautifully produced with an attractive dust jacket, paper of high quality, clear layout, some colour figures and a good author and keyword index. The presented material is lucid and easy to read ... Brain Edema X deals in detail with what is currently important in the interesting field ... I enjoyed reading the book ..." Anaesthesia and Intensive Care
Contents
Ischemia.- Trauma.- Cellular Swelling and Injury.- Neoplasms.- Therapy.- Molecular Mechanisms.- Blood Brain Barrier.- Thermal Effects.- Miscellaneous.
Additional Information