White Horse of Zennor
by Michael Morpurgo, M.B.E.
RRP €6.90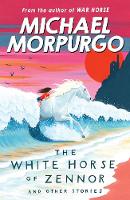 Book details for title

List Price: €

6.90

Format: Paperback, 198 x 129 x 13mm, 160pp
Publication date: 04 Jul 2011
Publisher: Egmont Books Ltd
ISBN-13: 9781405256759
Description
A thrilling collection of myths, legends and ghost stories from Britain's best-loved children's author and the man behind War Horse, Michael Morpurgo. Since the beginning of time, strange and mysterious things have happened here ...At the furthest edge of Britain, where the sea gently washes over the land and myths brush against reality, lies Zennor. Set in a church town where men become beats and ghosts roam freely, these are haunting and unforgettable tales where magic lies around every corner. Former Children's Laureate and award-winning author of War Horse, Michael Morpurgo, again demonstrates why he is considered to be the master story teller with his collection of ghost stories for children, The White Horse of Zennor.
Reviews
"Master British storyteller and Children's Laureate Morpurgo spins tales of gentle fantasy, otherworldly transformations, kind deeds, and just rewards. . . . Wonderful read-alouds, the lyrical style and fable-like plots of these tales pay tribute to the power of imaginative storytelling." --"Booklist"