Sex and Gender Hierarchies
by Barbara D. Miller Barbara Diane Miller Naomi Quinn Daniel Fessler Allen W. Johnson Takie Sugiyama Lebra John Lucy Claudia Strauss Harriet Whitehead
RRP €52.25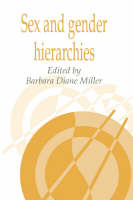 Book details for title

List Price: €

52.25

Format: Paperback, 228 x 152 x 24mm, 424pp
Publication date: 18 Feb 1993
Publisher: Cambridge University Press
ISBN-13: 9780521423687
Description
This edited collection attempts to revive a unified anthropological approach to the study of sex and gender hierarchies. Seventeen distinguished contributors - from cultural anthropology, physical anthropology, archaeology, and anthropological linguistics - have produced a wealth of fascinating data on human and primate, ancient and contemporary, and 'primitive' and developed societies, covering topics such as mothering and child care, work, health, intrafamily relationships, and public power. The interdisciplinary approach successfully contributes to the development of better theory and methodology in anthropology.
Reviews
"Should you make room in your financial and time budgets to buy and read yet another volume of expanded, revised conference papers? In the case of Sex and Gender Hierarchies, the answer is a resounding yes if your research or teaching interests include sex differences and gender relationships in primates. This collection of 17 chapters drawn from the four subfields of anthropology, accomplishes what many such volumes only promise to do. It is an impressive analysis of a specific issue--systematic relationships of inequality based on sex and gender--from the perspectives of first-rate biological and social/cultural anthropologists, archaeologists, and linguists." Barbara J. King, International Journal of Primatology
Contents
Preface Barbara Diane Miller; A note on the discussions at Mijas Elizabeth Colson; Part I. Overview and Theoretical Perspectives: 1. The anthropology of sex and gender hierarchies Barbara Diane Miller; 2. Sex differences and gender hierarchies among primates: an evolutionary perspective Adrienne Zihlman; 3. The evolution of gender hierarchies: a trial formulation Marvin Harris; Part II. Sex and Gender Hierarchies from Conception to Death: 4. Blood: cultural effectiveness of biological conditions Brigitta Hauser-Schaublin; 5. Reproduction and gender hierarchy: amniocentesis in America Rayna Rapp; 6. Variations in male-female dominance and offspring care in nonhuman primates Patricia C. Wright; 7. Indexing gender Elinor Ochs; 8. The politics of polygyny in Mende education and child fosterage transactions Caroline Bledsoe; 9. Sexual repression, social control, and gender hierarchy in Sambia culture Gilbert Herdt; 10. Primatological perspectives on gender hierarchies Joan B. Silk; 11. Conjugal power in Tokugawa Japanese families: a matter of life and death G. William Skinner; Part III. Complexity and Change in Gender Hierarchies: 12. Skeletal evidence for sex roles and gender hierarchies in prehistory Mark Nathan Cohen and Sharon Bennett; 13. Gender hierarchy and the Queens of Silla Sarah M. Nelson; 14. Gender hierarchy in Burma: cultural, social and psychological dimensions Melford E. Spiro; 15. Turning the tables? Male strippers and the gender hierarchy in America Maxine O. Margolis and Marigene Arnold; 16. Women in Samoan history: a further critique of Derek Freeman Eleanor Leacock; 17. Sanskritization as female oppression in India Gerald D. Berreman; Index.
Additional Information
Illustrations: 16 b/w illus.