The Emperor of Lies
by Steve Sem-Sandberg
RRP €11.99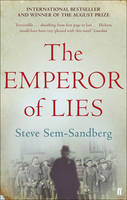 Book details for title

List Price: €

11.99

Format: Paperback, 198 x 126 x 41mm, 672pp
Publication date: 05 Jan 2012
Publisher: Faber & Faber
ISBN-13: 9780571259212
Dubray Review
Mordechai Chaim Rumkowski, as the Jewish Elder, was charged with ensuring the smooth running of the Lodz ghetto in Poland in 1940 and, under his direction, the ghetto functioned as an enormous manufacturing plant. In this novel, Rumkowski genuinely seems to believe that he can save some of 'his' Jews by cooperating with the German authorities. When the deportations begin, he has influence over who should go and he advocates sacrificing the ill and the weak so that others may survive. Sem-Sandberg portrays Rumkowski as determined but vain. A morally ambiguous man, it is impossible to ascertain whether he was well-meaning but horribly misguided, or a cruel and egotistical Nazi collaborator. The Emperor of Lies is an illuminating if unsettling novel that allows the reader to make up their own mind about events that are not easily forgotten.

- Sally Kingston, Stillorgan


Description
In February 1940, the Nazis established what would become the second largest Jewish ghetto in the Polish city of Lodz. Its chosen leader: Mordechai Chaim Rumkowski, a sixty-three-year-old Jewish businessman and orphanage director, and the elusive, authoritarian power sustaining the ghetto's very existence. From one of Scandinavia's most critically acclaimed and bestselling authors, "The Emperor of Lies" chronicles the tale of Rumkowski's monarchical rule over a quarter of a million Jews. Drawing on the chronicles of life in the Lodz ghetto, Steve Sem-Sandberg captures the full panorama of human resilience, and questions the nature of good and evil.
Reviews
"Mesmerizing...An irresistible work of fiction, absorbing from first page to last...Dickens would have been very pleased with this novel."--Carmen Callil, "The Guardian "(London)
"Was Rumkowski a sinner or a saint? Collaborator or a liberator? It is around this central question that "The Emperor of Lies" swirls, providing along the way. . . cinematic detail that invites immersion in the way few contemporary novels of serious ambition do."--Daphne Merkin, "The New York Times Book Review""A resolute masterpiece, "The Emperor of Lies "looks for truths in the great domain of dissolving syntax and shadows we call history....A great achievement."--Sebastian Barry, "Salon"
Additional Information