Where'd You Go, Bernadette?
by Maria Semple
RRP €17.95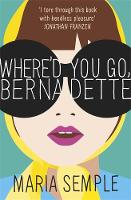 Where'd You Go, Bernadette?

by
Author Name
Maria Semple
Book details for title

List Price: €

17.95

Format: Paperback, 232 x 153 x 27mm, 336pp
Publication date: 07 Jun 2012
Publisher: Weidenfeld & Nicolson
ISBN-13: 9780297867296
Dubray Review
Bernadette Fox appears to have it all: she is worshiped by fellow architects for her inspirational work; her husband Elgie is one of Microsoft's most respected executives; and her only daughter, fifteen year-old Bee, adores her. However, Bernadette's quirky, irreverent manner and socially antagonistic behaviour is despised by the mothers at Bee's elite school and by her upper-middle class Seattle neighbours. Maria Semple has written a number of funny and engaging American TV shows such as Ellen and Arrested Development. In this novel, she combines her wit, sharp social commentary and wry contemporary observations to create a hilarious and often very touching novel. While addressing difficult issues such as family dysfunction, parental love and our own sense of belonging, Semple's work is fresh, vibrant and unputdownable. This is a perfect holiday read and one you will savour long after that tan fades.

- Mairead Gallagher, Blackrock

Description
Bernadette Fox is notorious. To Elgie Branch, a Microsoft wunderkind, she's his hilarious, volatile, talented, troubled wife. To fellow mothers at the school gate, she's a menace. To design experts, she's a revolutionary architect. And to 15-year-old Bee, she is a best friend and, quite simply, mum. Then Bernadette disappears. And Bee must take a trip to the end of the earth to find her. Where'd You Go, Bernadette is a compulsively readable, irresistibly written, deeply touching novel about misplaced genius and a mother and daughter's place in the world.
Reviews
Maria Semple's Where'd You Go Bernadette is the book that comes closest to matching Jonathan Safran Foer's 'Extremely Loud and Incredibly Close'. It's the highly charged story of a high achieving child, her genius Microsoft star employee father and her reclusive award-winning mother Bernadette. The family trip to Antarctica may well be their undoing. This is a hilarious novel with undoubtedly the pushiest parents ever captured in ink -- Patrick Neale, Jaffe & Neale Bookshop THE BOOKSELLER Where'd You Go Bernadette by Maria Semple is an innovative comic novel. The eponymous Bernadette was once a great architect but has fallen into a cycle of agoraphobia and misanthropy in Seattle. She is a bitter character who despises most other people but she's actually quite charismatic. I found myself rooting for her, which is testament to Semple's accomplished style and characterisation -- Ruth Hunter, Bertrams THE BOOKSELLER Where'd You Go, Bernadette is fresh and funny and accomplished, but the best thing about it was that I never had any idea what was going to happen next. It was a wild ride... Kate Atkinson A fresh, flamboyantly witty new voice Helen Fielding A delightfully funny book, that constantly catches one by surprise, Where'd You Go, Bernadette combines a shrewdly observed portrait of Seattle life with, of all things, a mysterious disappearance in Antarctica. A pleasure Matthew Kneale, author of English Passengers Maria Semple dissects the gory complexities of familial dysfunction with a deft and tender hand. Where'd You Go, Bernadette is a triumph of social observation and black comedy by a skillful chronicler of moneyed malaise. Patrick de Witt, author of The Sisters Brothers