Constipation
Etiology, Evaluation and Management
by D.C.C. Bartolo Steven D. Wexner Graeme S. Duthie
RRP €227.80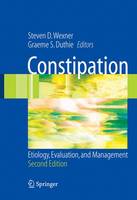 Book details for title

List Price: €

227.80

Format: Hardback, 254 x 178 x 17mm, 284pp
Publication date: 30 Aug 2006
Publisher: Springer London Ltd
ISBN-13: 9781852337247
Description
The only book to deal specifically with constipation for specialists has been updated to include all the new advances since the first edition (1995). These advances include biofeedback, surgery for constipation, sacral nerve stimulation, the use of laparoscopy for rectal prolapse, treament and our understanding of some of the psychological problems of these patients. Innovations also include Professor Norman Williams' Malone Procedure and the newer pharmacologic treatments such as nitric oxide and botulinum toxin injections.
Reviews
From the reviews of the second edition: "This compact, but complete, second edition, edited by Drs. Wexner and Duthie, brings an up-to-date approach to the medical and surgical therapy of this often debilitating condition. Excellent sections by authors ... provide a complete picture of what is currently known about etiology and medical therapy, as well as advances in diagnostic strategies that direct surgical treatment, when indicated. ... This comprehensive, easily read volume is a worthwhile edition to the library of any surgeon who encounters patients afflicted by this difficult entity." (Richard P. Billingham, Diseases of the Colon and Rectum, Vol. 51, 2008)
Contents
Definitions and epidemiology.- Etiology of congenital colorectal disease.- Etiology of acquired colorectal disease.- Extra colonic causes.- Initial evaluation.- Constipation predominant irritable bowel syndrome.- Methods to measure small bowel and colonic transit.- Anorectal manometry and the rectoanal inhibitory reflex.- Defecography.- Compliance and manovolumetry.- Electromyography and pudendal nerve terminal motor latency.- Dynamic MRI and nuclear imaging.- Biofeedback.- Medical treatment.- Surgical treatment of colonic inertia.- Botulinum toxin and other new pharmacological approaches.- Sacral nerve stimulation.- Surgical treatment of rectocele: the colorectal surgeon's approach.- Surgical treatment of rectocele: gynecologic approaches.- Perineal procedures for rectal prolapse.- Rectal prolapse.- Laparoscopic surgery for rectal prolapse.- Antegrade continent colonic conduit.- Hischsprung's disease.- Chagasic megacolon.- Puborectalis hypertrophy.
Additional Information
Illustrations: 125 black & white illustrations, 54 black & white tables, biography