How Do You Get an Egg into a Bottle and Other Puzzles
by Erwin Brecher Mike Gerrard
RRP €10.99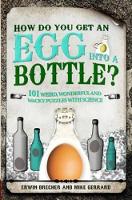 How Do You Get an Egg into a Bottle and Other Puzzles

by

Author Name

Erwin Brecher, Mike Gerrard
Book details for title

List Price: €

10.99

Format: Hardback, 198 x 129 x 18mm, 144pp
Publication date: 13 May 2010
Publisher: Carlton Books Ltd
ISBN-13: 9781847325273
Description
Containing 100 fascinating science puzzles, this book explains everything from the popular 'bottle and coin' trick to how to turn your boot strap into an elevator.
Reviews
"This is a book that will engross the curious and the mischievous along with their friends and family while feeding them a bit of science at the same time." --SanFranciscoBookReview.com
Contents
This fun book takes a slightly different look at puzzle questions, and all of the posers are based on real-world science. So you'll learn why a golf ball has dimples, why feet feel cold on a wooden floor and of course how you get an egg into a bottle!, Other puzzles include:; Can you Fit a Battleship in a Bathtub?; The Leaning Tower of Dominoes; Which weigh more: Feathers or Gold?; The Fast Car; Bootstrap Elevator; Iron Doughnut; Two Cannonballs; Bottle and Coin; Perpetual Motion; and many more.
Additional Information
Illustrations: 50 b/w line artworks