Ablutions
by Patrick deWitt
RRP €11.99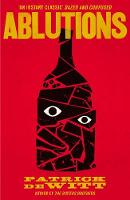 Book details for title

List Price: €

11.99

Format: Paperback, 198 x 129mm, 176pp
Publication date: 05 Jan 2012
Publisher: Granta Books
ISBN-13: 9781847086341
Description
A nameless barman tends a decaying bar in Hollywood and takes notes for a book about his clientele. Initially, he is morbidly amused by watching the regulars roll in and fall into their nightly oblivion, pitying them and their loneliness. In hopes of uncovering their secrets and motives, he establishes tentative friendships with them. He also knocks back pills indiscriminately and treats himself to gallons of Jameson's. But as his tenure at the bar continues, he begins to lose himself, trapped by addiction and indecision. When his wife leaves him, he embarks on a series of squalidly random sexual encounters and a downward spiral of self-damage and irrational violence. To cleanse himself and save his soul, he attempts to escape ...
Reviews
PRAISE FOR"ABLUTIONS" ..". dark and provocative ... deWitt has painted a portrait of the human condition ... And ABLUTIONS has achieved something remarkable." --"The New York Times Book Review"
..". deWitt's writing is sharp and bitter and funny ... " --"Los Angeles Times
"
"DeWitt's dirty realism makes me want to roll in the mud with him. Brilliant." --Gary Shteyngart, author of"Absurdistan" "Viciously hilarious ... deWitt's portrayal of the drinking life is staunchly unromantic." --"Time Out New York"(Five stars; Book of the day)
"These scenes are stunningly depicted ... deWitt writes beautifully about ugliness, and his book casts a haunting spell." --"Booklist"
"DeWitt's style of prose is refreshing and more like real life speak than most books, without losing the necessary descriptiveness to relay the feel and pure nuttiness of the situation inside the Hollywood bar where the scenes are set." --"About.com"
"Ablutions is like an intense art-house movie, where the lead