Faulks on Fiction
by Sebastian Faulks
RRP €11.99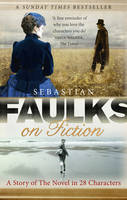 Faulks on Fiction

by
Author Name
Sebastian Faulks
Book details for title

List Price: €

11.99

Format: Paperback, 198 x 126 x 28mm, 384pp
Publication date: 01 Sep 2011
Publisher: BBC Books
ISBN-13: 9781846079603
Description
Ever since "Robinson Crusoe" in 1719, the novel has introduced British readers to truly unforgettable characters - people in whom we can find deeper understanding of our own lives. In this engaging and personal book, Sebastian Faulks examines and celebrates the most famous and best-loved of these dazzling fictional creations and their wider impact on British culture as a whole. From Sherlock Holmes and Mr Darcy to Emma Woodhouse and James Bond - this is the story of the heroes, lovers, snobs and villains in all of us.
Reviews
"Faulks on Fiction is not intended as a formal history of the British novel, but it is much more worthwhile and enjoyable than any history of the novel I have read." -- John Carey The Sunday Times "Faulks on Fiction is a fine reminder of why you love the characters you do; and it will serve as an introduction to new friends, too" -- Erica Wagner The Times " Faulks on Fiction revels in the creation of vital, unruly characters" -- Boyd Tonkin The Independent "Full of personal anecdotes and warm-blooded opinions." -- Sam Leith The Spectator "It's like finding yourself transported into an intelligent debate about your favourite books... Superb." London Evening Standard
Additional Information
Illustrations: Illustrations, ports.