It's the Bear!
by Jez Alborough
RRP €9.95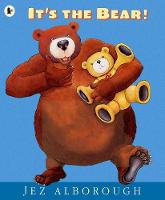 It's the Bear!

by
Author Name
Jez Alborough
Book details for title

List Price: €

9.95

Format: Paperback, 300 x 248 x 4mm, 32pp
Publication date: 06 Dec 2004
Publisher: Walker Books Ltd
ISBN-13: 9781844284757
Description
Eddy doesn't want to go to the woods for a picnic with Mum. He's scared that the huge hungry bear who lives there will make a picnic out of him!
Reviews
"The suspense is just scary enough for preschoolers, who will love the pie-in-the-sky ending in which both the bear and Eddie's mother get their just desserts."
Additional Information
Illustrations: illustrations