And by the Way ...
.. a Butterfly Novel
by Denise Deegan
RRP €11.35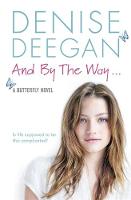 And by the Way ...
.. a Butterfly Novel

by
Author Name
Denise Deegan
Book details for title

List Price: €

11.35

Format: Paperback, 198 x 130 x 25mm, 336pp
Publication date: 17 Feb 2011
Publisher: Hachette Books Ireland
ISBN-13: 9781444721195
Dubray Review
And By The Way is a journey through grief, love and self-discovery. It'll break your heart and make you laugh – both at the same time. And By The Way . . . you're going to love it!
A new series by the brilliant Denise Deegan introduces us to Strandbrook College: a school for the kids of the rich and famous, nestled in the heart of south Co. Dublin. However, for one student all the glitz and glamour of this fashionable lifestyle means absolutely nothing. Following her mother's death, Alex finds herself in the depths of despair. Nothing feels right and her relationship with her father The Rockstar appears to be crumbling. She is determined never to get close to anyone again – you don't get close, you don't get hurt. She shuts down, builds a wall around herself and becomes The Ice Queen. But two people are not prepared to let this happen: Alex's best friend Rachel and David McFadden, a boy who seems to be ever so slowly melting Alex's cold exterior.
Full of heart, this is a beautifully written and absorbing story about overcoming the obstacles that life throws at you – and the unbreakable bonds of family, friendship and love. You won't be able to put it down.