Little Foxes
by Michael Morpurgo, M.B.E.
RRP €9.95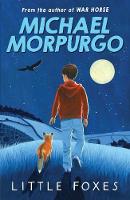 Book details for title

List Price: €

9.95

Format: Paperback, 198 x 129 x 14mm, 208pp
Publication date: 05 May 2008
Publisher: Egmont Books Ltd
ISBN-13: 9781405233392
Description
Little Foxes is a spellbinding animal story from Britain's best-loved children's author, Michael Morpurgo. Now available as an ebook Bullied at school, nagged in Aunty May's tenth-floor council flat, there's only one place Billy really feels alive - in the wilderness by the canal. There he watches a cygnet on the water and protects a family of fox cubs. Then his secret place is discovered and the fox family decimated. Unwanted and unloved, Billy and the last fox run for their lives ...Former Children's Laureate and award-winning author of War Horse, Michael Morpurgo, demonstrates why he is considered to be the master story teller with this tale of a boy discovering the wonders of nature.
Reviews
"On Little Foxes the Guardian said: 'Imaginatively written... Highly recommended,' and the Observer said: 'Combines suspense, surprise and a tear or two.'"
Additional Information
Illustrations: black & white illustrations