Confessions
by Saint Augustine Peter Brown Michael Foley Michael P. Foley F.J. Sheed
RRP €12.80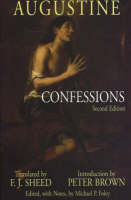 Book details for title

List Price: €

12.80

Format: Paperback, 215 x 139 x 20mm, 384pp
Publication date: 01 Mar 2006
Publisher: Hackett Publishing Co, Inc
ISBN-13: 9780872208162
Description
Like the first Hackett edition of the Augustine's Confessions , the second edition features F. J. Sheed's remarkable translation of this classic spiritual autobiography with an Introduction by noted historian of late antiquity Peter Brown. New to this edition are a wealth of notes on literary, philosophical, biblical, historical, and liturgical topics by Michael P. Foley, an Editor's Preface, a map, a timeline, paragraph numbers in the text, a glossary, and a thorough index. The text itself has been completely reset, with textual and explanatory notes placed at the foot of the page for easy reference.
Reviews
Saint Augustine's Latin presents notable difficulties for translators. And even good English translations have usually dated badly. Frank Sheed's, which I read a mere fifty years ago, still shows no signs of dating. It captures Augustine's extraordinary combination of precise statement and poetic evocation as does no other. --Alasdair MacIntyre Augustine's sublime Confessions fairly ring with the music of a baroque eloquence, lavish and stately. F. J. Sheed's ear for that music makes this translation a memorable opportunity to hear Augustine's voice resonating down the years." --James O'Donnell
Contents
Book One: The First Fifteen Years; Book Two: The Sixteenth Year; Book Three: From Sixteen to Eighteen; Book Four: From Eighteen to Twenty-Seven; Book Five: Aged Twenty-Eight; Book Six: Aged Twenty-Nine; Book Seven: Aged Thirty; Book Eight: Aged Thirty-One; Book Nine: Aged Thirty-Two; Book Ten: Augustine's Confession of His Present; Book Eleven: In the Beginning God Created (Genesis 1:1); Book Twelve: Heaven and Earth; Book Thirteen: The Days of Creation; Index.
Additional Information