Kick-Ass 2
by Mark Millar John Romita, Jr.
RRP €26.99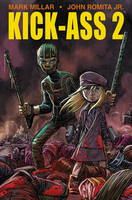 Book details for title

List Price: €

26.99

Format: Hardback, 258 x 170 x 15mm, 208pp
Publication date: 15 Jun 2012
Publisher: Titan Books Ltd
ISBN-13: 9780857687869
Description
This is the sequel to the biggest creator-owned comic of the decade - the one that spawned the No. 1 hit movie and the worldwide phenomenon! Kick-Ass is back! As everybody's favourite psychotic 11-year-old Hit Girl trains Kick-Ass to be...well, a bad-ass, nemesis Red Mist gathers a team of super-villains to take them down! It's superhero mayhem as only Mark Millar and John Romita Jr. can bring you!
Additional Information
Illustrations: colour comic strip