Doctor Proctor's Fart Powder: The End of the World. Maybe.
by Jo Nesbo
RRP €9.95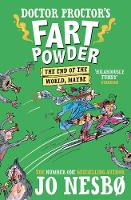 Doctor Proctor's Fart Powder: The End of the World. Maybe.

by
Author Name
Jo Nesbo
Book details for title

List Price: €

9.95

Format: Paperback, 198 x 130 x 18mm, 464pp
Publication date: 26 Apr 2012
Publisher: Simon & Schuster Childrens Books
ISBN-13: 9780857073891
Description
Everyone is hooked on the hottest singing competition on TV, The NoroVision Choral Throwdown! Everyone, that is, except for Doctor Proctor, Nilly and Lisa, who are far too busy having fun to watch TV. But when people start acting oddly, the three friends begin to suspect that there's more to the show than meets the eye...Can it really be hypnotising everyone in Norway? With crazy inventions, disappearing socks, half-men half-frogs, a moon chameleon invasion and, of course, plenty of super-sonic bottom burps, this is going to be the gang's most explosive adventure yet! Can they stop an alien invasion in its tracks, or is this actually the end of the world?
Additional Information
Illustrations: Illustrations