Global Environmental Change
by R.M. Harrison Johan Kuylenstierna R. E. Hester John T. Houghton Manuel Barange Frans Berkhout A. J. McMichael Mike Ahern Robert Nicholls Martin L. Parry
RRP €49.60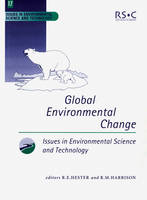 Book details for title

List Price: €

49.60

Format: Paperback, 246 x 189 x 11mm, 212pp
Publication date: 01 Apr 2002
Publisher: Royal Society of Chemistry
ISBN-13: 9780854042807
Description
Few people today are unaware of the far-reaching effects of global environmental change, and it is now generally accepted that human activities are the root cause of the changes in climate. Global Environmental Change provides a balanced overview of the problems associated with global warming. Commencing with a chapter on the evidence for global warming presented by Sir John Houghton, the book then goes on to discuss the many problems associated with air pollution. Subsequent chapters cover rising sea levels, the effect of climate change on human health and the role of environmental performance in industry. This readable and factually detailed book will have wide appeal but will be of particular interest to environmental scientists, industrial managers, policy-makers and students.
Reviews
"... an excellent summary of several aspects of present climatic change and its consequences." Marine Pollution Bulletin, 46, (2003) 677-678 "... a readable and factually detailed book that should have wide appeal ..." International Journal of Environmental Studies, Vol 60, No 2, 2003 "... a must in the library of interested people and of courses for (undergraduate) students ..." International Journal of Environment and Pollution, Vol 19, No 4, 2003 "... clear, concise and highly readable ... an excellent and comprehensive account of the science of global climate change ..." Chemistry in Britain, October 2002, p 62 "... very well written and should be accessible to a wide readership ... well referenced [and] commendably up-to-date." Chemistry & Industry, 6 January 2003, p 25
Contents
An Overview of the Intergovernmental Panel on Climate Change (IPCC) and its Process of Science Assessment; A Perspective on Global Air Pollution Problems; Influence of Climate Variability and Change on the Structure, Dynamics and Exploitation of Marine Ecosystems; Rising Sea Levels: Potential Impacts and Responses; Climate Change, Global Food Supply and Risk of Hunger; Global Environmental Changes and Human Health; Corporate Environmental Performance; Subject Index.
Additional Information
Illustrations: black & white illustrations