Rethinking English in Schools
Towards a New and Constructive Stage
by Viv Ellis Carol Fox Brian Street
RRP €36.90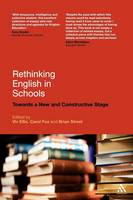 Rethinking English in Schools
Towards a New and Constructive Stage

by

Author Name

Viv Ellis, Carol Fox, Brian Street
Book details for title

List Price: €

36.90

Format: Paperback, 156 x 234 x 14mm, 266pp
Publication date: 10 Mar 2009
Publisher: Continuum International Publishing Group Ltd.
ISBN-13: 9780826445469
Description
This book suggests that English teaching has something both to reclaim and renew. Why should young people study a subject called English? This question lies at the heart of this fascinating monograph, which brings together the diverse perspectives of many leading thinkers about English and literacy education. This meticulously researched and well-written collection takes as its starting point the importance of the history of the subject in the formation of its constitution and its boundaries. First and foremost, it proposes that questions of aims and values have informed these choices. Equally, it suggests that returning to these educational questions helps us to understand curriculum and pedagogy in complex ways that a simple focus on content and methods neglects. Curriculum and pedagogy bring learners, teachers, institutions and the wider society into the debate.
Reviews
"This book is a timely and proactive reminder that critical analysis of English (and literacy) teaching, the "long tradition of socially critical work in English Education" referred by its publishers, has been patchy of late...the book is a challenge for us as an association to extend the writers' analyses here to a specific part of the 'field' primary literacy." Literacy Volume 43, Nov 2009
Contents
Acknowledgements; Chapter 1 Why English? Rethinking The School Subject; Section 1: How History And Politics Have Shaped English Teaching; Chapter 2 The Picture Of Development In Vygotskyan Theory: Renewing The Intellectual Project Of English; Chapter 3 Deep Winters, Invincible Summers: Teaching English For Existential Purposes; Chapter 4 English In The History Of Imperialism: Teaching The Empire How To Read; Chapter 5 - Individual, Community And Society: A Response To section 1; Section 2: Culture As A Verb: Teaching Literatures; Chapter 6 - How Critical Is The Aesthetic? The Role Of Literature In English; Chapter 7 - History, War And Politics: Taking 'Comix' Seriously; Chapter 8 - 'The Uncreating Word': Some Ways Not To Teach English; Chapter 9 - Refreshing The Aesthetic: A Response To Section 2; Section 3: Language(S), Multiple Literacies And The Question Of English; Chapter 10 The New Literacy Studies And Multimodality: Implications For The Subject And The Language 'English'; Chapter 11 Resisting Monolingualism In 'English': Reading And Writing The Politics Of Language; Chapter 12 English As A Multilingual Subject: Theoretical And Research Perspectives; Chapter 13 The Multiple Languages And Literacies Of English: A Response To Section 3; Chapter 14 More Than 'Soldiering On?
Additional Information
Illustrations: black & white illustrations