Assessing Learners in Higher Education
by Sally Brown Peter Knight
RRP €36.00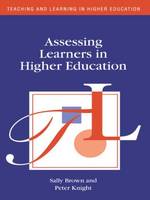 Assessing Learners in Higher Education

by

Author Name

Sally Brown, Peter Knight
Book details for title

List Price: €

36.00

Format: Paperback, 234 x 156 x 8mm, 164pp
Publication date: 01 Feb 1994
Publisher: Routledge Falmer
ISBN-13: 9780749411138
Description
The factors influencing the changes in assessment in higher education include the increase in student group sizes, the movement towards competence-based assessment (particularly by agencies such as BTEC and NCVQ) and greater expectations of student-centred learning.;The authors of this study examine the range of methods available in the assessment repertoire, evaluate how effective these methods are in practice and provide guidance about how best to implement them. The major issues that arise are discussed.
Reviews
..".by far the most useful book on assessment that is available today." -- Assessment and Education in Higher Education
Contents
Issues of assessment; techniques of assessment; how to assess better; assessments and organizations; conclusions and prospects.
Additional Information
Illustrations: black & white illustrations