Headlong
by Michael Frayn
RRP €11.99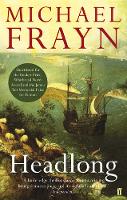 Book details for title

List Price: €

11.99

Format: Paperback, 198 x 126 x 25mm, 400pp
Publication date: 03 May 2012
Publisher: Faber & Faber
ISBN-13: 9780571283484
Description
When a local down-on-his-luck landowner asks Martin Clay, a young would-be art historian, to value some paintings, Clay suddenly sees the chance of a lifetime: the opportunity to perform a great public service, and at the same time to make his professional reputation - perhaps even rather a lot of money as well. Believing one of the paintings to be a missing masterpiece he hatches a plot to bring the picture into his own possession. As Clay stumbles headlong into the moral and intellectual labyrinth of his own devious plan, things start to go badly out of control...
Reviews
"Rueful and amusing . . . Frayn is that rare writer who succeeds as both a novelist and a dramatist."--"Randy Cohen, The New York Times Book Review"

"Finely wrought and highly comical . . . a perfect introduction to a writer who likes to pull the rug out from under your feet while offering you the most seductive of smiles."--Michael Upchurch", Seattle Times"

"Exceedingly funny, both in event and in intellectual high jinx."--Katherine A.Powers, "The Boston Sunday Globe"

"Part detective story, part art history lesson, part cautionary tale, and entirely funny."--"The New Yorker"

"Frayn isn't stingy, even here, with the laughs, gleefully pricking holes in the overconfidence of academic art criticism. But just below the sugar powder you bite into his tough-minded essay on how history and individual human folly combine and conspire to manufacture art's 'message.'"--Judith Dunford, "Los Angeles Times Book Review"

"Delightful...this novel, deadpan hilarious and wonderfully written, is as effective a work of historical reconstruction as it is a comedy."--David Walton, "Philadelphia Inquirer"

""Headlong "offers an enthralling and refreshingly grown-up take on the alarming speed with which our morals shift to accommodate our desires, and on the lofty and low ways in which the great art of the past continues to affect us."--"Elle"