The Politics of International Law
by Christian Reus-Smit G. John Ikenberry Steve Smith Thomas Biersteker Chris Brown Phil Cerny Alex Danchev Joseph M. Grieco John Groome Richard A. Higgott
RRP €59.70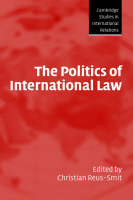 Book details for title

List Price: €

59.70

Format: Hardback, 228 x 152 x 24mm, 348pp
Publication date: 29 Apr 2004
Publisher: Cambridge University Press
ISBN-13: 9780521837668
Description
Politics and law appear deeply entwined in contemporary international relations. Yet existing perspectives struggle to understand the complex interplay between these aspects of international life. In this path-breaking volume, a group of leading international relations scholars and legal theorists advance a new constructivist perspective on the politics of international law. They reconceive politics as a field of human action that stands at the intersection of issues of identity, purpose, ethics, and strategy, and define law as an historically contingent institutional expression of such politics. They explain how liberal politics has conditioned modern international law and how law 'feeds back' to constitute international relations and world politics. This new perspective on the politics of international law is illustrated through detailed case-studies of the use of force, climate change, landmines, migrant rights, the International Criminal Court, the Kosovo bombing campaign, international financial institutions, and global governance.
Reviews
'... this is a superb volume that makes an important contribution to the study of both International Relations and international law. It contains a skilful blend of theoretical innovation and high-quality empiricism and is sure to become standard reading in a range of different settings. In no small part because of this book it is likely that we will see a proliferation of university courses on the 'politics of international law' and the continued flourishing of research and debate on this important issue.' International Affairs '... The Politics of International Law [] has something to offer to both practitioners and theoreticians of international law: a new perspective on the functioning of politics, a richer understanding of the function of law in international society, and a more sophisticated approach to some of the foundational concepts of the international legal system.' Wouter G. Werner, Leiden journal of International Law '... has something to offer to both practitioners and theoreticians of international law ...' Leiden Journal of International Law
Contents
1. Introduction Christian Reus-Smit; 2. The politics of international law Christian Reus-Smit; 3. When states use armed force Dino Kritsiotis; 4. Soft law, hard politics, and the Climate Change Treaty Robyn Eckersley; 5. Emerging customary norms, and anti-personnel landmines Richard Price; 6. International law, politics, and migrant rights Amy Gurowitz; 7. The International Criminal Court David Wippman; 8. The Kosovo bombing campaign Nicholas Wheeler; 9. International financial institutions Antony Anghie; 10. Law, politics, and international governance Wayne Sandholtz and Alec Stone Sweet; 11. Socety, power, and ethics Christian Reus-Smit.
Additional Information
Illustrations: 1 Illustrations