Stealth Democracy
Americans' Beliefs About How Government Should Work
by John R. Hibbing Elizabeth Theiss-Morse James H. Kuklinski Dennis Chong
RRP €67.20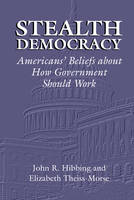 Book details for title

List Price: €

67.20

Format: Hardback, 228 x 152 x 21mm, 304pp
Publication date: 29 Aug 2002
Publisher: Cambridge University Press
ISBN-13: 9780521811385
Description
Americans often complain about the operation of their government, but scholars have never developed a complete picture of people's preferred type of government. In this provocative and timely book, Hibbing and Theiss-Morse, employing an original national survey and focus groups, report the governmental procedures Americans desire. Contrary to the prevailing view that people want greater involvement in politics, most citizens do not care about most policies and therefore are content to turn over decision-making authority to someone else. People's wish for the political system is that decision makers be empathetic and, especially, non-self-interested, not that they be responsive and accountable to the people's largely nonexistent policy preferences or, even worse, that the people be obligated to participate directly in decision making. Hibbing and Theiss-Morse conclude by cautioning communitarians, direct democrats, social capitalists, deliberation theorists, and all those who think that greater citizen involvement is the solution to society's problems.
Reviews
"A compelling challenge to the prominent view that government participation leads to better government." The Futurist "This wonderfully provocative book uses survey data and interviews to support hypotheses that run against the conventional scholarly wisdom about what is wrong with the US political system... This excellent contribution to the sociological and political science literature on participation is written in a clear, occasionally witty, and understandable prose that all will appreciate. Essential." Choice
Contents
Part I. The Benefits of Studying the Processes People Want: 1. Policy space and American politics; 2. Process space: an introduction; 3. Using process space to explain features of American politics; Part II. The Processes People Want: 4. Attitudes toward specific processes; 5. Public assessments of people and politicians; 6. Americans' desire for stealth democracy; Part III. Should People Be Given the Processes They Want?: 7. Popular deliberation and group involvement in theory; 8. The realities of popular deliberation and group involvement; 9. Improving government and people's attitudes toward it.
Additional Information
Illustrations: 17 b/w illus. 20 tables