Post-broadcast Democracy
How Media Choice Increases Inequality in Political Involvement and Polarizes Elections
by Markus Prior James H. Kuklinski Dennis Chong
RRP €34.05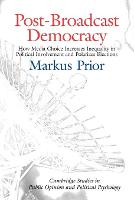 Post-broadcast Democracy
How Media Choice Increases Inequality in Political Involvement and Polarizes Elections

by

Author Name

Markus Prior, James H. Kuklinski, Dennis Chong
Book details for title

List Price: €

34.05

Format: Paperback, 228 x 152 x 19mm, 338pp
Publication date: 02 Apr 2007
Publisher: Cambridge University Press
ISBN-13: 9780521675338
Description
The media environment is changing. Today in the United States, the average viewer can choose from hundreds of channels, including several twenty-four hour news channels. News is on cell phones, on iPods, and online; it has become a ubiquitous and unavoidable reality in modern society. The purpose of this 2007 book is to examine systematically, how these differences in access and form of media affect political behaviour. Using experiments and survey data, it shows how changes in the media environment reverberate through the political system, affecting news exposure, political learning, turnout, and voting behaviour.
Reviews
'... a generally convincing and thought provoking explantory account of the political repercussions wrought by changes in the media environment in the last 70 years ... the book is essential reading for political scientists interested in individual political behaviour and the broader implications for democratic competition.' Journal of Politics
Contents
1. Introduction; 2. Conditional political learning; Part I. The Participatory Effects of Media Choice: 3. Broadcast television, political knowledge, and turnout; 4. From low choice to high choice: the impact of cable tv and internet on news exposure, political knowledge, and turnout; 5. From low choice to high choice: does greater media choice affect total news consumption and average turnout?; Part II. The Political Effects of Media Choice: 6. Broadcast television, partisanship, and the incumbency advantage; 7. Partisan polarization in the high-choice media environment; 8. Divided by choice: audience fragmentation and political inequality in the post-broadcast media environment.
Additional Information