Private Power, Public Law
The Globalization of Intellectual Property Rights
by Susan K. Sell G. John Ikenberry Steve Smith Thomas Biersteker Chris Brown Phil Cerny Alex Danchev Joseph M. Grieco John Groome Richard A. Higgott
RRP €25.40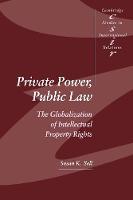 Book details for title

List Price: €

25.40

Format: Paperback, 228 x 152 x 14mm, 244pp
Publication date: 15 May 2003
Publisher: Cambridge University Press
ISBN-13: 9780521525398
Description
Susan K. Sell's book shows how power in international politics is increasingly exercised by private interests rather than governments. In 1994 the WTO adopted the Agreement on Trade-Related Aspects of Intellectual Property Rights (TRIPS), which dictated to states how they should regulate the protection of intellectual property. This book argues that TRIPS resulted from lobbying by twelve powerful CEOs of multinational corporations who wished to mould international law to protect their markets. This book examines the politics leading up to TRIPS, the first seven years of its implementation, and the political backlash against TRIPS in the face of the HIV/AIDS crisis. Focusing on global capitalism, ideas, and economic coercion, this work explains the politics behind TRIPS and the controversies created in its wake. It is a fascinating study of the influence of private interests in government decision-making, and in the shaping of the global economy.
Reviews
'... a very good book ... lucidly and engagingly written as well as being excellently researched.' The King's College Law Journal
Contents
1. Introduction; 2. Structures, agents, and institutions; 3. US intellectual property rights in historical perspective; 4. The domestic origins of a trade-based approach to intellectual property; 5. The Intellectual Property Committee and transnational mobilization; 6. Life after TRIPS: aggression and opposition; 7. Conclusion: structured agency revisited.
Additional Information
Illustrations: 11 b/w illus. 2 tables