Possible Worlds in Literary Theory
by Ruth Ronen Anthony J. Cascardi Richard A. Macksey
RRP €23.90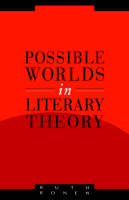 Book details for title

List Price: €

23.90

Format: Paperback, 216 x 138 x 15mm, 260pp
Publication date: 26 May 1994
Publisher: Cambridge University Press
ISBN-13: 9780521456487
Description
The concept of possible worlds, originally introduced in philosophical logic, has recently gained interdisciplinary influence; it proves to be a productive tool when borrowed by literary theory to explain the notion of fictional worlds. In this book Ruth Ronen develops a comparative reading of the use of possible worlds in philosophy and in literary theory, and offers an analysis of the way the concept contributes to our understanding of fictionality and the structure and ontology of fictional worlds. Dr Ronen suggests a new set of criteria for the definition of fictionality, making rigorous distinctions between fictional and possible worlds; and through specific studies of domains within fictional worlds - events, objects, time, and point of view - she proposes a radical rethinking of the problem of fictionality in general and fictional narrativity in particular.
Reviews
"...Ronen's book is a most valuable and exciting contribution of great interest to two communities of specialized readers: those interested in the general dynamics of theory formation in cultural studies and those whose interests focus on one central issue in this sphere, fictional worlds and their constitutive domains." Uri Margolin, Style "...illuminates the logic underlying an important interdisciplinary borrowing and constitutes a powerful reassessment of fictional narrativity. It is a splendid performance." Gerald Prince, Language of Design
Contents
Acknowledgements; Introduction; 1. Possible worlds, fictional worlds; 2. The possibility of fictional worlds; 3. The fictionality of fictional worlds; 4. Fictional entities, incomplete beings; 5. Fictional events and the intricacies of plot; 6. Focalization and fictional perspective; 7. Fictional time; Conclusion; Bibliography; Index.
Additional Information
Illustrations: black & white illustrations