Competition Policy and Law in China, Hong Kong and Taiwan
by Mark R. F. Williams
RRP €58.20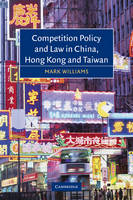 Competition Policy and Law in China, Hong Kong and Taiwan

by
Author Name
Mark R. F. Williams
Book details for title

List Price: €

58.20

Format: Paperback, 229 x 152 x 28mm, 492pp
Publication date: 29 Oct 2009
Publisher: Cambridge University Press
ISBN-13: 9780521121736
Description
This book provides a comprehensive guide to the competition regimes of China, Hong Kong and Taiwan. Chinese developments are placed in the context of the adoption of competition regimes by developing and transitional states worldwide and also in relation to the influence of trans-national organisations on transitional states to adopt market-based economic strategies. The book adopts an inter-disciplinary approach considering the political, economic and legal issues relevant to competition policy adoption. The paradoxical phenomenon of Communist mainland China seeking to adopt a pro-competition law, whilst capitalist Hong Kong refuses to do so, is explained and contrasted with the successful Taiwanese adoption of a competition regime over a decade ago. The underlying economic and political forces that have shaped this unusual matrix are discussed and analysed with a theoretical explanation offered for its consequences.
Reviews
"This is an important book. China by virtue of its size, rate of economic growth and ambitions is going to be an important player, if not the most important player, in the 21st Century...Williams' book is a monumental contribution to our understanding of barriers to the creation of free markets and effective competition laws in transitional economies." - Kenneth M. Davidson, American Antitrust Institute "The book, well researched and insightful, is a good reference for understanding China's economic reform." Yu Xingzhong, Law and Politics Book Review
Contents
1. Introduction and methodology; 2. Competition theory and the experience of states adopting competition law; 3. The international perspective; 4. China and economic regulation: history, politics and economics; 5. Existing and proposed Chinese competition provisions; 6. Competitive Hong Kong: myths, perception and reality; 7. Implementation of competition policy in Hong Kong 1997-2004; 8. Electricity, telecommunication and broadcasting: competition regulation Hong Kong style; 9. Taiwan: the third China; 10. Political economy: an explanation of competition policy in Greater China; 11. Competition policy and law in Greater China: where next?
Additional Information
Illustrations: black & white illustrations