Men Out of Work
A Study of Unemployment in Three English Towns
by M. J. Hill R. M. Harrison A. V. Sargeant V. Talbot
RRP €5.25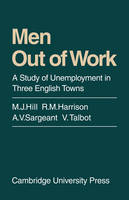 Book details for title

List Price: €

5.25

Format: Paperback, 216 x 140 x 12mm, 208pp
Publication date: 09 Aug 1973
Publisher: Cambridge University Press
ISBN-13: 9780521098182
Description
This 1973 book reports the first findings of a study of over a thousand unemployed men living in Coventry, Hammersmith and Newcastle upon Tyne in October 1971. It provides evidence on the main characteristics of these men, and particularly upon the relations between these characteristics and length of unemployment. In doing this the book looks at the evidence for those views of unemployment which attribute worklessness either to the inadequacies of individuals or to their reluctance to work. It finds that the most significant characteristics of the long-term unemployed are increasing age, low skill and deficient health, and concludes by relating these to the policies of the 1970s designed to assist men to get work.
Contents
Foreword; Acknowledgements; 1. Introduction; 2. The research areas; 3. The main determinants of unemployment length; 4. The backgrounds and circumstances of the unemployed; 5. Attitudes of the unemployed; 6. The main findings: a further examination; 7. Discussion of the findings; Methodological appendix; Bibliography.
Additional Information
Illustrations: figs.tabs.