Constructing Scientific Psychology
Karl Lashley's Mind-Brain Debates
by Nadine Weidman Mitchell G. Ash William Ray Woodward
RRP €45.40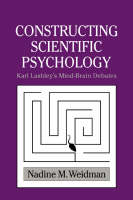 Book details for title

List Price: €

45.40

Format: Paperback, 228 x 152 x 14mm, 240pp
Publication date: 02 Nov 2006
Publisher: Cambridge University Press
ISBN-13: 9780521027779
Description
Constructing Scientific Psychology, published in 1999, was the first full-scale interpretation of the life and work of the major American neuropsychologist Karl Lashley. It sets Lashley's research at the heart of two controversies that polarized the American life and human sciences in the first half of the twentieth century. These concerned the relationship between 'mind' and 'brain' and the relative roles of 'nature' and 'nurture' in shaping behaviour and intelligence. The book explodes the myth of Lashley's neuropsychology as a fact-driven, 'pure' science by arguing that a belief in the power of heredity and a nativist and deeply conservative racial ideology informed every aspect of his theory and practice.
Reviews
"In this fascinating book, Nadine M. Weidman throws new light on the cross-currents and controversies that characterized the teething decades of scientific psychology. Weidman's courtesy and balanced perspective never falters. The book's ideal mix of measured distance and intimate insight makes it a trustworthy and valuable analysis. The book is an excellent introduction to a formative time whose afterglow and ideational fallout can still be felt. Weidman herself alludes to this, noting that Lashley's legacy is a mixed one." Zoltan L. Torey, Journal of the History of the Behavioral Sciences "...this book covers some interesting features of Lashley's life which are unlikely to be found in the textbooks. It is features like these which make this such an illuminating book. Nadine Weidman has produced a thoroughly enjoyalbe account of Lashley's life and research career. I wyould highly recommend it to psychology and biology students, and to anyone interested in understanding the history of the mind-brain debate." Chemistry & Industry
Contents
Preface; Acknowledgements; List of abbreviations; Introduction; 1. Lashley and Jennings: the origins of a hereditarian; 2. Lashley, Watson, and the meaning of behaviorism; 3. The pursuit of a neutral science; 4. Neuropsychology and hereditarianism; 5. Psychobiology and progressivism; 6. Psychobiology and its discontents: the Lashley-Herrick debate; 7. Hull and psychology as a social science; 8. Intelligence testing and thinking machines: the Lahley-Hull debate; 9. Pure psychology; 10. Public science and private life; 11. Genetics, race biology, and depoliticization; Epilogue: Lashley and American neuropsychology; Appendix: archives holding Lashley material; Bibliography; Index.
Additional Information
Illustrations: 9 b/w illus.