Migration and Colonization in Human Microevolution
by Alan G. Fix C. G. Nicholas Mascie-Taylor Robert Andrew Foley Nina G. Jablonski Karen B. Strier Michael Little Kenneth M. Weiss
RRP €32.85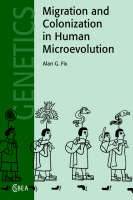 Book details for title

List Price: €

32.85

Format: Paperback, 228 x 152 x 15mm, 256pp
Publication date: 08 Sep 2005
Publisher: Cambridge University Press
ISBN-13: 9780521019545
Description
Migration and colonization are major forces affecting the frequency, spatial pattern and spread of genes in human populations. Here, Alan Fix reviews theories of migration developed by biologists and social scientists and surveys patterns of migration in a diverse sample of human populations. Using these empirical studies, he evaluates models of migration developed by population geneticists and explores more realistic models using computer simulation. He then shows the relevance of studies of migration as a microevolutionary process to the understanding of longer term global patterns of human diversification, by examining the spread of anatomically modern Homo sapiens, the demic diffusion of agriculture in Europe, and the origins of human diversity in the Malayan Peninsula. By focusing on migration as a process rather than as its genetic consequences, the book provides a bridge between biological and social science studies of migration, genetic microevolutionary theory and longer term human evolution.
Reviews
"This is an excellent summary of what geneticists and evolutionary biologists should know about human migration." Quarterly Review of Biology "...major contribution and one of very few significant works on this topical issue in recent decades." Science "The book's treatment of these different appoaches is excellent...As such, the book will serve as a classic reference from which to further research human migration." American Jrnl of Human Biology
Contents
Preface; Acknowledgements; 1. The study of migration; 2. The anthropology of human migration; 3. Population genetics models and human migration; 4. Computer simulation models; 5. Migration and colonization in human evolution; 6. Conclusions: an evolutionary framework for the study of migration; References.
Additional Information
Illustrations: 32 b/w illus. 16 tables