Body Composition in Biological Anthropology
by Roy J. Shephard C. G. Nicholas Mascie-Taylor Robert Andrew Foley Nina G. Jablonski Karen B. Strier Michael Little Kenneth M. Weiss
RRP €43.30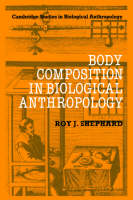 Book details for title

List Price: €

43.30

Format: Paperback, 228 x 152 x 20mm, 356pp
Publication date: 08 Sep 2005
Publisher: Cambridge University Press
ISBN-13: 9780521019033
Description
This volume provides a thought-provoking perspective on the empirical and analytic study of body form and composition. The techniques used for measuring body components such as fat, water, lean tissue, bone mass and bone density are evaluated against potential 'gold standards'. The nature of regional differences, developmental changes, pathological abnormalities, and the impact of heredity and environment in shaping body composition are discussed in the context of human evolution. All those concerned with biological anthropology, both clinicians and researchers, will find this book of great interest.
Reviews
"The book differs from some other works in biological anthropology by taking an explicitly evolutionary perspective, and includes interesting perspectives from the history of biological anthropology, all written in a very readable style." Choice "...A lot of valuable information is packed into these chapters...will be of interest as a general overview of body composition techniques and issues." The Quarterly Review of Biology
Contents
Preface; 1. Introduction; 2. Epidemiological indices, anthropometric and cadaver estimates of body composition; 3. Determination of body fat; 4. Determination of body water; 5. Determination of lean tissue; 6. Estimation of bone mass; 7. Regional differences of body composition; 8. Developmental changes, growth and aging; 9. Genetic influences upon body composition; 10. Environmental influences; 11. Pathological disturbances of body composition; 12. Human adaptability and body composition; Glossary; References; Index.
Additional Information
Illustrations: black & white illustrations