Jacqueline Wilson Biscuit Barrel "Cliffhanger", "Buried Alive"
by Jacqueline Wilson
RRP €11.35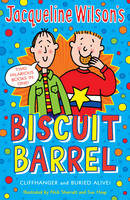 Jacqueline Wilson Biscuit Barrel "Cliffhanger", "Buried Alive"

by
Author Name
Jacqueline Wilson
Book details for title

List Price: €

11.35

Format: Paperback, 198 x 129 x 16mm, 256pp
Publication date: 28 May 2001
Publisher: Yearling (imprint of Random House Children's Books)
ISBN-13: 9780440864639
Description
Dip into Jacqueline Wilson's Biscuit Barrell - it's deliciously funny and full of unexpected treats! In CLIFFHANGER, Tim hates sports, so he's dreading a week of action-packed games on an adventure holiday. Luckily, his new friend Biscuits isn't very interested in the activities either - except for eating! And the boys return in BURIED ALIVE! for another trip - but this time they're in for an adventure of an unexpected kind!
Reviews
"Weaves plenty of plot strands in a very short space, and leaves us smiling at the end. Which is definitely the way to do it" Daily Telegraph on CLIFFHANGER "An excellent, fast-moving story, full of humour" The Good Book Guide on CLIFFHANGER "Hilarious" The Times on BURIED ALIVE "Clear as crystal and genuinely funny, this story is enriched by Wilson's perceptive description of the adults in the background, battling through their holiday" Mail on Sunday on BURIED ALIVE
Additional Information