Ecotoxicology
Ecological Dimensions
by David James Baird P.E.I. Douben P. Greig-Smith L. Maltby
RRP €85.60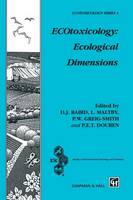 Book details for title

List Price: €

85.60

Format: Paperback, 235 x 155 x 5mm, 100pp
Publication date: 01 Sep 1996
Publisher: Chapman and Hall
ISBN-13: 9780412754906
Description
Ecotoxicology is a rapidly-developing area of science which seeks to understand the impacts of toxic chemical exposure on the integrity of ecological systems and their subcomponents. Since its inception in the 1970s, its concerns have broadened from a consideration of lethal effects arising from catastrophic events such as oil spillages towards the understanding of more subtle nonlethal impacts on natural systems. In recent years, as the science has developed, the need for continued exchange of ideas between ecotoxicologists and mainstream ecologists has been highlighted, and the aim of this volume is to bring together international experts from both within and outside the ecotoxicological community to review and highlight the most recent developments in their areas of expertise. The material presented covers both aquatic and terrestrial systems, and deals with issues of global concern, and offers a potential source of ideas and information for those involved in environmental research and management. This book should be of interest to ecotoxicologists, ecologists, environmental scientists and risk assessment practitioners.
Reviews
...short, concisely written, ideas-driven reviews of dey issues making this a text suitable for both students and researchers - Ethology Ecology & Evolution
Contents
The current state of the science (or is it art?) in ecotoxicology. The influence of environmental stress on the distribution of traits within populations. Coping with variability: ecological dynmamics and the detection of environmental impacts. Time and space: exploring the ecological dimensions of a more predictive approach to risk analysis. Indirect effects: concepts and approaches from ecological theory. Putting ecology into environmental toxicology.
Additional Information