A Death in Summer
by Benjamin Black
RRP €23.45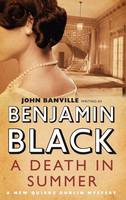 A Death in Summer

by
Author Name
Benjamin Black
Book details for title

List Price: €

23.45

Format: Hardback, 216 x 135mm, 256pp
Publication date: 01 Jul 2011
Publisher: Mantle
ISBN-13: 9780330509091
Description
When newspaper magnate Richard Jewell is found dead at his country estate, clutching a shotgun in his lifeless hands, few see his demise as cause for sorrow. But before long Doctor Quirke and Inspector Hackett realise that, rather than the suspected suicide, 'Diamond Dick' has in fact been murdered. Jewell had made many enemies over the years and suspicion soon falls on one of his biggest rivals. But as Quirke and his assistant Sinclair get to know Jewell's beautiful, enigmatic wife Francoise d'Aubigny, and his fragile sister Dannie, as well as those who work for the family, it gradually becomes clear that all is not as it seems. As Quirke's investigations return him to the notorious orphanage of St Christopher's, where he once resided, events begin to take a much darker turn. Quirke finds himself reunited with an old enemy and Sinclair receives sinister threats. But what have the shadowy benefactors of St Christopher's to do with it all? Against the backdrop of 1950's Dublin, Benjamin Black conjures another atmospheric, beguiling mystery.
Reviews
"[Benjamin Black's] books about the dour Irish pathologist named Quirke have effortless flair, with their period-piece cinematic ambience and their sultry romance. The Black books are much more like Alan Furst's elegant, doom-infused World War II spy books than like standard crime tales."--Janet Maslin, "The New York Times"
"Black's drab Dublin streets are full of perplexing figures, archetypes, as if the characters were stalking through some Jungian map of the unconscious: weakened, dying fathers, good mothers, bad mothers, twins, 'dark doubles, ' ghosts surging up from the past... His narratives are loaded with poetic devices."--"The New Yorker"

"Black has improved with every book, and the latest, "A Death in Summer", is his best yet... [Black] knows how to create a first-rate sleuth--the ungainly, middle-aged Dublin pathologist Quirke, a man who can never seem to keep his nose out of trouble."--Malcolm Jones, "The Daily Beast"
"The author of the Booker Prize-winning "The Sea", Banville is a literary artist, whereas Black is a craftsman who churns out page-turning crime tales... Banville's latest Benjamin Black novel is another complex character study disguised as a plot-driven work of genre fiction."--"The Kansas City Star"
"["A Death in Summer"] is an elegant novel, well-paced with dramatic twists, disturbing surprises and richly drawn characters whose actions and motives have a tangible psychological depth.
Mr. Black/Banville is well in form here... It can be either plunged into without any need to reference the previous three or else taken as a welcome new installment of a sequential quartet by one of Ireland's leading contemporary novelists."--"New York Journal of Books"