Managing Intellectual Capital
Organizational, Strategic and Policy Dimensions
by David J. Teece
RRP €124.85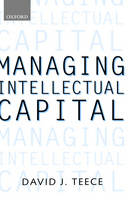 Managing Intellectual Capital
Organizational, Strategic and Policy Dimensions

by
Author Name
David J. Teece
Book details for title

List Price: €

124.85

Format: Hardback, 230 x 150 x 22mm, 310pp
Publication date: 14 Dec 2000
Publisher: Oxford University Press
ISBN-13: 9780198295419
Description
There is a strong awareness that the new economy has arrived, and that firms and management need to focus on a plethora of new issues at present only dimly perceived. The astute management of technology can advance not only the fortunes of the innovators, but also of society at large. In this book David Teece considers how firms can exploit technological innovation, protecting their intellectual capital, while staying ahead of the competition. He provides frameworks as well as practical advice, looking in particular at the organization structures most likely to support innovation, and how managerial decisions and strategy affect the division of the gains. This will be essential reading for academics, maangers, and students alike who want to keep abreast of contemporary strategic challenges.
Reviews
This book is very useful both for practitioners, students and certainly all people interested in understanding how the world is changing. David Teece is master in synthesising his academic work and his experience both as a consultant and as a major actor in antitrust policy debates. Definitely a book which will be worth consulting regularly Technovation David Teece is one of the most influential and seminal thinkers in the field of strategic management Academy of Management Review
Contents
Part 1 Introduction: the knowledge economy and intellectual capital management. Part 2 Foundations: impact of market structure and organizational factors on innovation; governance modes and technological innovation; decision-making processes and technological innovation (with Bercovitz and de Figueiredo). Part 3 Applications to management and strategy: market entry strategies for innovators; imitation strategies for owners of complementary assets; outsourcing strategies for innovators; understanding the licensing option (with Peter Grindley and Edward Sherry). Part 4 Public policy: antitrust analysis in high technology industries (with Mary Coleman). Appendixes: the semiconductor industry (with Peter Grindley); the glass industry and the Pilkington Float process (with Ed Sherry and Peter Grindley).
Additional Information
Illustrations: figures, tables