Judging New Wealth
Popular Publishing and Responses to Commerce in England, 1750-1800
by James Raven
RRP €131.05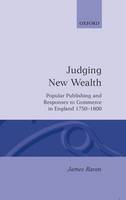 Judging New Wealth
Popular Publishing and Responses to Commerce in England, 1750-1800

by
Author Name
James Raven
Book details for title

List Price: €

131.05

Format: Hardback, 216 x 138 x 27mm, 340pp
Publication date: 23 Apr 1992
Publisher: Clarendon Press
ISBN-13: 9780198202370
Description
In this broad-ranging study, James Raven explores popular literature and the book trade in the second half of the eighteenth century. Based on intensive research into the production and sale of literature ranging from novels and magazines to courtesy books and fashionable tracts, the book examines the representation of the newly wealthy. Dr Raven challenges the notion that prejudice against the businessman was a late nineteenth-century phenomenon. He shows how, during a period of often bewildering change and instability, a competitive literature industry led reaction against excessive consumer spending, contributed to the definition of legitimate economic behaviour, and stimulated unprecedented attacks upon the social presumption of tradesmen. This is a scholarly and stimulating study which makes important contributions to debates on the supposed decline of the British industrial spirit and on the growing self-confidence of the middle class. Judging New Wealth adds very greatly to our understanding of late eighteenth-century England and its cultural and business climate.
Reviews
"This is a kind of total history. Raven has left few sources unturned...In addition to being a source of many important findings, this book is also an impressive essay on method, an extremely responsible account of what it would really take to answer some of our larger questions about this period."--American Historical Review"A subtle and persuasive study of the formation of cultural practices out of changing material conditions."--Library Quarterly
Contents
Publishing profiles; booksellers and markets; promotion and defence; merchants, gentility and Christian conduct; defending trade in the provinces - the gentleman merchant and Mrs Gomersall of Leeds; vulgarity and social grammar; reactions to fashion and luxury; fears of ruination; pretensions to land; assumptive gentry and the threat to stability; historical perspectives.
Additional Information
Illustrations: bibliography