A Death in the Family
by James Agee Blake Morrison
RRP €15.65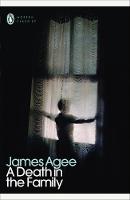 Book details for title

List Price: €

15.65

Format: Paperback, 198 x 129 x 19mm, 336pp
Publication date: 06 Apr 2006
Publisher: Penguin Classics
ISBN-13: 9780141187969
Description
On a sultry summer night in 1915, Jay Follet leaves his house in Knoxville, Tennessee, to tend to his father, who he believes is dying. The summons turns out to be a false alarm, but on his way back to his family, Jay has a car accident and is killed instantly. Dancing back and forth in time and braiding the viewpoints of Jay's wife, brother, and young son, Rufus, Agee creates an overwhelming powerful novel of innocence, tenderness, and loss that should be read for the sheer music of its prose.
Reviews
"[James Agee's words] are so indelibly etched someplace inside of me that I couldn't reach to rub them out even if I wanted to. And I never want to."
-Steve Earle, from the Introduction

"The work of a writer whose power with English words can make you gasp."
-Alfred Kazin, "The New York Times Book Review"

" It is, in the full sense, poetry. . . . The language of the book, at once luminous and discreet . . . remains in the mind."
-"The New Republic"

" Wonderfully alive."
-"The New Yorker"