David Almond - Writing, Circuses and Piranhas
Thank you for agreeing to do a Q&A for the Dubray Books website. We're so pleased to be recommending The Boy Who Swam with Piranhas. We're big fans of your work and are really excited about sharing your new book with our young readers. I really appreciate your taking the time to answer my questions.
How did the idea for The Boy who Swam with Piranhas come about?
Years ago I wrote a short play called Mickey and the Emperor about a boy whose house is turned into a fish-canning factory. A group of us put it on in a little arts centre and had a great time. It had an Investigator of Fishy Things and a tin of goldfish. The story stayed with me, and I knew I'd find a way to recreate it. Then just a couple of years ago I went with my family to a rather strange circus in Italy. (I love circuses, by the way!) During the interval, we were told that there was a very special, and very scary act that could be seen by anyone who was willing to pay a few euros more. My daughter and I looked at each other. How could we resist? We went through some curtains. Behind them, there was a huge tank filled with piranhas. A man in swimming costume climbed a ladder at the side of the tank. He threw in a dead chicken. The piranhas attacked it and ripped it apart. The man put on a pair of goggles. He stood at the side of the tank. Did he dare? Yes, he did. He dived in, and swam with the lethal fish. We gasped, we laughed, we clapped our hands. It was unforgettable, scary and very funny. Straight away I knew I'd have to write a book about this. The story of the fish-canning factory, and the story of the piranhas came together to produce this new book.
Stanley Potts, the boy who swam with piranhas, is a very brave boy. What is the bravest thing you have ever done?
Nothing as brave as Stanley! That's one of the great things about writing - you can have your characters dare to do things you'd never do! Things that might seem quite brave? I hitch hiked to Greece and back a few times. I gave up my job, sold my house, and went to live in a commune. I went rock-climbing once and was terrified. I went sailing once and I sank. I drove a motor bike once, and crashed. You have to be brave to write well, but I guess it doesn't look very brave…
Did you base Clarence P. Clapp from the Departmint for the Abolishun of Fishy Things on anybody in particular?
Nobody in particular, but on lots of narrow-minded, and often rather dangerous people who see it as their duty to stop other people having fun.
Stanley is on a journey of self discovery in The Boy Who Swam with Piranhas. What or who do you think most helps Stanley to discover his destiny?
He's a courageous lad, and he has a good and trusting heart. He has sadness, of course, but he doesn't let this grind him down. When his life at Fish Quay Lane gets unbearable, he has the courage to step away from it, to begin a journey of discovery. The people he meets - Dostoyevsky, Pancho, Nitasha, Gypsy Rose - all help him along the way. He helps them to change, too, of course. Nitasha and Dostoyevsky find out that they can be better people because of knowing Stanley. So does Uncle Ernie. Stanley is not alone. He discovers his true self and his destiny because of his inner drive, but also because of his openness to other people and to the world. If he hadn't set off, he wouldn't have met Pancho. If he hadn't been brave enough to listen to Pancho, he wouldn't have climbed up to the piranha tank. If he hadn't been Stanley Potts, a boy with courage and hope, he wouldn't have dived in.
Did you have to do any research to write The Boy Who Swam With Piranhas?
I read a lot about piranhas, and went to circuses and fairs.
Who is your favourite character in the book, and which character was the most fun to write?
Clarence and his DAFT lads were great fun to write. I grew very fond of all the other main characters - as it says at the end, I think their hearts are good and true. My favourite? I guess it has to be Stanley himself. It was really interesting to follow his adventures and to write them down.
Do you have any advice for children who would like to become authors themselves? How about for children who want to swim with piranhas?
If you want to be a writer, just write. Don't worry about it, just write. Don't think you have to write something wonderful every time. Write something that you would like to read. Read. Try to be as good as the writers you like. Work hard, but don't see writing as a chore. Writing is a kind of play. So play hard. Scribble, doodle, play with words, ideas, stories. Read your writing out loud and listen to how it sounds. Print your work out and make it look attractive on the page. rewrite, reprint and look at it again. Enjoy all aspects of writing: the stories, the sounds, the look of words and paragraphs. Love big things like your characters' great adventures, and also tiny things like commas and full stops. If you really really want to write, don't listen to anybody who says you can't. Trust yourself, and trust your wonderful imagination.
If you want to swim with piranhas? Wear a strong swimming costume, and feed them with something tasty before you jump in yourself.
Many Thanks,
Kim Harte
Dubray Books
We're MAD About...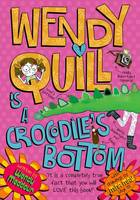 Wendy Quill is a
Crocodile's Bottom
by Wendy Meddour
& Mina May
Read Our Review...
Teen Choice