Irish Book Awards
The Bord Gais Energy Irish Book Awards celebrate the best in Irish writing and publishing in several categories. The winner in each category is decided by the votes of the public - go to the IBA website to cast your vote. But don't delay, the closing date for votes is the 21st of November.
For the nominees in each category, see the following pages:
Children's Book of the Year - Junior
Paperback · 28 Nov 2012 · €4.99
Paperback · 07 Mar 2013 · €8.50

The Beast is back and this time it's up to him to help restore peace to an island, which is being threatened by a scary monster. Determined to face his fears, the Beast sets out to find the monster. But, perhaps, the island monster isn't so scary after all...
Hardback · 06 Dec 2012 · €14.20

Offers at the seams with all kinds of kisses and cuddles from giraffes, mice, fish, bumble bees and... even elephants. This book is a total love fest.
Paperback · 25 Sep 2013 · €9.99
Children's Book of the Year - Senior
Hardback · 26 Sep 2013 · €15.65

The day the First World War broke out, Alfie Summerfield's father promised he wouldn't go away to fight - but he broke that promise the following day. Four years later, Alfie doesn't know where his father might be, other than that he's away on a special, secret mission.
Paperback · 02 Sep 2013 · €7.99

When Eva and Kate find an old diary, they end up determined to right old wrongs! But they can't spend all their time living in the past as the present, too, is throwing all sorts of challenges at them ... But when the girls get together they can handle anything!
Hardback · 29 Aug 2013 · €21.30

The eighth instalment in the biggest, funniest, most thrilling comedy-horror-adventure series in the universe - and the follow-up to 2012's number-one bestseller, Kingdom of the Wicked...
Paperback · 03 Oct 2013 · €10.99
We're MAD About...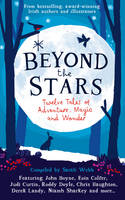 Beyond the Stars
by Sarah Webb
Read Our Review...
Teen Choice