Young Adult Bestsellers
Paperback · 05 Sep 2013 · €16.00
Our Price: €12.99

Book three of the second CHERUB series, featuring a new cast of characters - just as compelling as the first, which has sold millions of copies worldwide.
Paperback · 05 Sep 2013 · €14.70
Our Price: €10.99
Paperback · 09 Jul 2013 · €9.99
Our Price: €7.99

Clary Fray is seeing things: vampires in Brooklyn and werewolves in Manhattan. Irresistibly drawn towards a group of sexy demon hunters, Clary encounters the dark side of New York City - and the dangers of forbidden love.
Paperback · 07 Jul 2008 · €9.99
Our Price: €8.99

With her mother in a coma and her father hell-bent on destroying the world, Clary is dragged deeper into New York's terrifying underworld of werewolves, demons and the mysterious Shadowhunters. Discovering the truth about her past was only the beginning, now Clary must save the world from her own father - the rogue Shadowhunter Valentine.
Paperback · 02 Jul 2007 · €9.99
Our Price: €7.99

Sixteen-year-old Clary Fray is an ordinary teenager, who likes hanging out with her friends. But everything changes the night she witnesses a murder, committed by a group of teens armed with medieval weaponry. The murderous group are Shadowhunters, secret warriors dedicated to driving demons out of this dimension and back into their own.
Paperback · 22 Jun 2009 · €9.99
Our Price: €8.99

With two of the Mortal Instruments now in Valentine's hands, the world of the Shadowhunters teeters on the brink of civil war. Jace and the Lightwoods are recalled to Idris, the Shadowhunters' remote and hidden home country, where a search has begun for the last of the Instruments, the Mortal Glass.
Paperback · 29 Aug 2013 · €17.35
Our Price: €12.99
Paperback · 06 Sep 2012 · €9.99
Our Price: €8.99

Clary and the Shadowhunters struggle to piece together their shattered world after a betrayal by one of their own leaves them reeling.
Paperback · 01 Sep 2011 · €9.99
Our Price: €8.99

The Mortal War is over and sixteen-year-old Clary Fray is back home in New York excited about all the possibilities before her. She's training to become a Shadowhunter and - most importantly of all - she can finally call Jace her boyfriend. But nothing comes without a price.
Paperback · 29 Aug 2013 · €14.70
Our Price: €11.99

Lucy Carlyle, a talented young agent, arrives in London hoping for a notable career. Instead she finds herself joining the smallest most ramshackle agency in the city, run by the charismatic Anthony Lockwood. When one of their cases goes horribly wrong, Lockwood & Co have one last chance of redemption.
Paperback · 01 Sep 2011 · €8.99

While Tom and Johnny are on a husky safari in Finland, their half-sister Grainne stays behind to face the mother who abandoned her. But Tom and Johnny are too caught up in their adventure to think of home - until they find themselves lost in the snow, struggling to survive...
Paperback · 02 Feb 2012 · €9.99

She turns to the future in a world that's falling apart. The No. 1 New York Times bestseller DIVERGENT - a major motion picture in 2014.
Paperback · 04 Sep 2010 · €9.99

This is a new urban fantasy full of vampires, werewolves and shape-shifters from the bestselling author of "The Mortal Instruments" series. It's London, 1878: sixteen-year-old Tessa Gray's priority should be finding her brother, not falling in love, especially with two boys.
Paperback · 31 Mar 2011 · €9.99

A vivid, passionate and intensely moving novel from prize-winning author John Green.
Paperback · 03 Jun 2010 · €8.99

Young Willie Beech is evacuated to the country as Britain stands on the brink of the Second World War. A sad, deprived child, he slowly begins to flourish under the care of old Tom Oakley - but his new-found happiness is shattered by a summons from his mother back in London...
Paperback · 13 Aug 2013 · €14.70
Our Price: €11.99

The incredible new novel from the author of Oscar-nominated THE SILVER LININGS PLAYBOOK. For fans of THE CURIOUS INCIDENT OF THE DOG IN THE NIGHT-TIME and THE PERKS OF BEING A WALLFLOWER.
Paperback · 10 May 2012 · €9.99
Our Price: €8.99

When it comes to relationships, Colin Singleton's type is girls named Katherine. And when it comes to girls named Katherine, Colin is always getting dumped. On road trip miles from home, this anagram-happy, washed-up child prodigy has ten thousand dollars in his pocket, a bloodthirsty feral hog on his trail, and an overweight Judge Judy.
Paperback · 05 Sep 2013 · €9.99
Our Price: €8.99

An ill-timed storm on Christmas Eve buries the residents of Gracetown under multiple feet of snow and causes quite a bit of chaos. One brave soul ventures out into the storm from her stranded train and sets off a chain of events that will change quite a few lives.
Paperback · 05 Sep 2013 · €9.99
Our Price: €7.99

If the only way to save the world was to destroy what you loved most, would you do it? The clock is ticking. Everyone must choose.
Paperback · 03 May 2012 · €9.99

In the magical underworld of Victorian London, Tessa Gray finds her heart drawn more and more to Jem, while her desire for Will, despite his dark moods, continues to unsettle her. But something is changing in Will. Could finding the Magister free Will from his secrets and give Tessa the answers about who she is and what she was born to do?
Paperback · 16 Feb 2009 · €9.99

In the blink of an eye, the world changes. The adults vanish without a trace, and those left must do all they can to survive. For Sam and Astrid, it is a race against time as they try to solve the questions that now dominate their lives. What is the mysterious wall that has encircled the town of Perdido Beach and trapped everyone within?
Paperback · 01 Dec 2011 · €9.99

The second book in the ground-breaking HUNGER GAMES trilogy. After winning the Hunger Games, Katniss and Peeta return to their district. But their victory has caused rebellion to break out ... and then comes the cruellest twist: the contestants for the next Hunger Games are announced, and Katniss and Peeta are forced into the arena once more.
Paperback · 23 Oct 2013
Our Price: €13.99
We're MAD About...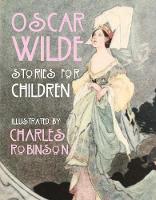 Stories For Children
by Oscar Wilde
Read Our Review...
Teen Choice