Fiction Bestsellers for 8-12 Year Olds
Paperback · 03 Jul 2014 · €18.50
Our Price: €12.99

One AMAZING new novella. Three GRIPPING new stories. In the ULTIMATE story collection.
Hardback · 08 May 2014 · €15.65
Our Price: €10.99

A 'brilliant' middle-grade, magical adventure from the world-famous author of The Commitments and The Guts.
Paperback · 03 Jan 2013 · €11.35

Auggie wants to be an ordinary ten-year-old. Born with a terrible facial abnormality, Auggie has been home-schooled by his parents his whole life. Now, for the first time, he's being sent to a real school - and he's dreading it. All he wants is to be accepted - but can he convince his new classmates that he's just like them, underneath it all?
Hardback · 27 Mar 2014 · €11.35

There's nothing that can't be built in Minecraft, but with so many possibilities, where do you start? And how will you ever match the creative style of the experts? This title is packed with tips and step-by-step instructions from master build team FyreUK.
Hardback · 05 Jun 2014 · €15.65
Our Price: €11.99

More diary entries and doodles from Nikki's not-so-fabulous life, in the new instalment of the internationally bestselling Dork Diaries series.
Paperback · 03 Jul 2014 · €7.15
Our Price: €5.99

Why is the new boy at school wearing a balaclava? The other kids are intrigued and come up with all sorts of theories, but every single one is wrong. As their curiosity grows, Tommy's new friends think of a plan to reveal his secret, but you'll never guess what it is. Short novel with an intriguing story.
Hardback · 27 Mar 2014 · €11.35

In Minecraft, you're never alone and the threat of attack is constant. How can you survive? This book teaches you what you need to know to defend yourself from hostile monsters and enemy players. It shows you how to build a fort, craft armour and weapons, defeat your enemies in one-to-one combat, and battle your way out of the Nether and the End.
Hardback · 07 Feb 2014 · €4.99

Best-loved Irish legends for children.
Paperback · 05 Jun 2014 · €11.35
Our Price: €8.99

The classic fantasy novel, acclaimed as a Sunday Times, Times and Metro Book of the Year, now in paperback!
Paperback · 26 Sep 2013 · €15.65
Our Price: €9.99

The new jaw-achingly funny novel from David Walliams, the number one bestselling author! Make your appointment if you dare...
Hardback · 14 Nov 2013 · €11.35

Includes what you need to know to get connected to the electrifying possibilities of redstone. From basic mining and logic circuits to more advanced mechanics, this book gives you step by step instructions to get you fully wired to redstone.
Hardback · 08 May 2014 · €15.65
Our Price: €11.99

Winner of the Roald Dahl Funny Prize, the Waterstones Children's Book Prize and the Blue Peter Best Story Book Award. Full of doodle-style illustrations. Me, Derek and Norman need some SERIOUS band practice for the ROCKWEKLY BANDBATTLE AUDITION. But I'm not panicking because we have LOADS of time. (I think?)
Hardback · 10 Oct 2013 · €11.35

You're alone in a mysterious new world, full of hidden dangers. You have only minutes to find food and shelter before darkness falls and the monsters come looking for you. What do you do? This title helps you learn how to make a shelter, find resources, craft tools, armour and weapons, and protect yourself from monsters.
Mixed media product · 16 Nov 2005 · €14.20

A collection of Irish folk tales with two free audio CDs.
Paperback · 06 Jul 2009 · €8.50

A gothic novel featuring twins with a deadly rivalry, mysterious deaths, a fortune to be inherited and any amount of dodgy dealings
Paperback · 05 Jun 2014 · €7.15
Our Price: €5.99
Paperback · 05 Jun 2014 · €9.95
Our Price: €7.99

Read the book that inspired the hit DreamWorks film How to Train Your Dragon 2.
Hardback · 10 Sep 2010 · €9.99

A bumper collection of Ireland's favourite legends for children.
Paperback · 27 Feb 2012 · €11.99

Irish fairy tales and legends are full of enchantment, brave deeds and lost loves. Told from generation to generation, they are as fascinating now as they were to their original listeners. With stunning illustrations to draw the reader back to a time of heroes and myth. Now available in paperback.
Paperback · 03 Feb 2011 · €7.15

Come one, come all for this extraordinary fiction debut for both Alex T Smith and his unforgettable hero, Claude.
We're MAD About...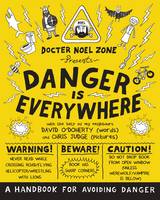 Danger is Everywhere
by David O'Doherty
Read Our Review...
Teen Choice