Fiction Bestsellers for 8-12 Year Olds
Paperback · 05 Jun 2014 · €11.35

The classic fantasy novel, acclaimed as a Sunday Times, Times and Metro Book of the Year, now in paperback!
Hardback · 10 Oct 2013 · €11.35
Our Price: €8.99

You're alone in a mysterious new world, full of hidden dangers. You have only minutes to find food and shelter before darkness falls and the monsters come looking for you. What do you do? This title helps you learn how to make a shelter, find resources, craft tools, armour and weapons, and protect yourself from monsters.
Paperback · 02 Jan 2014 · €11.35

Join Rover the wonder-dog and the eccentric but lovable Mack family as they get into one madcap adventure after the other! The poo is about to hit the shoe... "Riotously funny" The Times "Packed full of bizarre humour, imagination and a whole lot of poo..." Bookseller "Brilliant" Irish Independent
Paperback · 03 Jul 2008 · €9.95

This was Mom's idea, not mine. But if she thinks I'm going to write down my "feelings" in here or whatever, she's crazy. The only reason I agreed to do this at all is because I figure later on when I'm rich and famous, this book is gonna come in handy. But for now I'm stuck with a bunch of morons.
Paperback · 03 Jul 2014 · €8.50
Our Price: €6.99

Daisy's getting into trouble again, and this time it's at her school Sports Day! Daisy's determined to win her race, and she and best friend Gabby have been training hard. They're going for gold! They're in the zone! They're sticking to a strict athlete's diet of Mars bars, Twiglets and cheese strings.
Paperback · 05 Jun 2014 · €7.15
Our Price: €5.99
Paperback · 03 Jul 2014 · €11.35
Our Price: €8.99

The day the First World War broke out, Alfie Summerfield's father promised he wouldn't go away to fight - but he broke that promise the following day. Four years later, Alfie doesn't know where his father might be, other than that he's away on a special, secret mission.
Paperback · 01 Feb 2012 · €9.95

Greg Heffley has always been in a hurry to grow up. But is getting older really all it's cracked up to be? Suddenly Greg is dealing with the pressures of boy-girl parties, increased responsibilities, and even the awkward changes that come with getting older.
Paperback · 03 Feb 2011 · €7.15

Come one, come all for this extraordinary fiction debut for both Alex T Smith and his unforgettable hero, Claude.
Paperback · 30 Jan 2014 · €9.95

A Valentine's Day dance at Greg's school has turned his world upside down. As Greg scrambles to find a date, he's worried he'll be left out in the cold on the big night. His bestfriend, Rowley, doesn't have any prospects either but that's small consolation.
Paperback · 31 Jan 2013 · €9.95

Greg Heffley is in big trouble. School property has been damaged and Greg is the prime suspect. But the crazy thing is, he's innocent! Or at least sort of. The authorities are closing in, but then a surprise blizzard hits and the Heffley family is trapped indoors.
Paperback · 28 Feb 2013 · €9.95

Another hilarious and moving novel from David Walliams, number one bestseller and fastest growing children's author in the country.

Paperback · 09 Jun 2011 · €9.95

A hilarious, touching and extraordinary new fable from David Walliams, number one bestseller and fastest growing children's author in the country.
Paperback · 31 Jul 2014 · €9.95
Our Price: €7.99

In a perfect world, Jonas begins to see the flaws... THE GIVER is the classic award-winning novel that inspired the dystopian genre and a major motion picture adaptation for 2014 starring Jeff Bridges, Meryl Streep, Katie Holmes and Taylor Swift.
Paperback · 16 Sep 2013 · €11.35
Paperback · 17 Jul 2010 · €9.95

Greg's mom has a vision of "family togetherness" that really doesn't sound a whole lot of fun. But there's a brand-new addition to the Heffley family to contend with and it looks like Greg might be outnumbered. It could be a real dog of a summer...
Paperback · 05 Jun 2014 · €9.95

The highly anticipated prequel to the bestselling Alex Rider series, charting the journey of a young assassin.
Paperback · 01 Mar 1997 · €4.99

This is an illustrated miniature collection of traditional Irish legends for children.
Paperback · 11 Jun 2012 · €9.99

Follow Larry the Leprechaun around Ireland, and see if you can find him in Newgrange, at The Rock of Cashel and in Dublin's St Patrick's Day Parade! But it won't be easy: he is hiding in the middle of Irish dancers, traditional musicians, climbers, tourists, hurlers and many others. Great fun for all the family.
We're MAD About...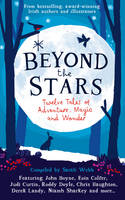 Beyond the Stars
by Sarah Webb
Read Our Review...
Teen Choice